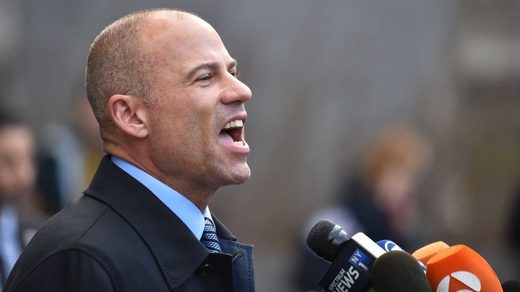 Michael Avenatti, the lawyer representing porn star Stormy Daniels, threatened to sue a news organization and individual journalists on Monday after they reported on his alleged past shady business dealings and connections.
Avenatti threatened The Daily Caller News Foundation (
DCNF
) and individual journalists at the news organization after they reported:
Avenatti's past is littered with lawsuits, jilted business partners and bankruptcy filings. People who have worked with the lawyer described him to TheDCNF as ruthless, greedy and unbothered by ethical questions.
In an email, Avenatti accused the DCNF of being part of a conspiracy theory that involved President Donald Trump directing them to write false and defamatory statements about him.
Avenatti wrote: "If you and your colleagues do not stop with the hit pieces that are full of lies and defamatory statements, I will have no choice but to sue each of you and your publication for defamation. During the process, we will expose your publication for what it truly is. We will also recover significant damages against each of you that participated personally. So if I were you, I would tell Mr. Trump to find someone else to fabricate things about me. If you think I'm kidding, you really don't know anything about me. This is the last warning."
Multiple allegations have been made about Avenatti's past over the last week that cast him in a very negative light and that not only raise potential questions about his character but about
whether he may have broken the law.
The DCNF's report mostly centered around Avenatti's failed business venture when he owned Tully's Coffee, where he allegedly failed to pay suppliers and then was sued by his business partner, actor Patrick Dempsey. The DCNF adds:
David Nold, a Seattle attorney representing several Tully's vendors, filed a complaint against Avenatti with the California State Bar on March 26, accusing him of fraud.
"In essence, he bought a company out of bankruptcy and then used it for a 'pump and dump' scheme to deprive federal and state taxing authorities of millions of dollars,"
Nold alleges.
Trial lawyer Robert Barnes turned up the heat on Avenatti on Twitter where Barnes alleged that Avenatti possibly committed tax-related crimes and received large sums of money in January 2018, which is around the time that the Stormy Daniels media circus kicked off.
Barnes laid out the allegations about Avenatti's past in a series of tweets:
Ryan Saavedra is a staff writer at The Daily Wire who covers a range of subjects, particularly focusing on media bias, politics, and the convergence of politics and culture.