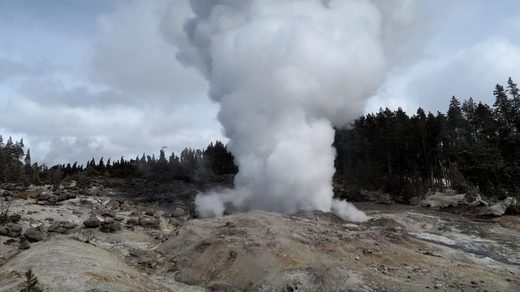 The world's largest active geyser has erupted again in Yellowstone National Park.
The U.S. Geological Survey said the Steamboat Geyser erupted just before 4 a.m. Sunday, its fifth eruption so far this year.
In a series of
tweets
, the agency said there's no indication of any volcanic activity in the park and that most geysers are intermittent. However, it says the string of eruptions is a good sign that summer visitors will get to see some "spectacular geysering."
Unlike some of the other Yellowstone geysers, which erupt relatively predictably, Steamboat goes through periods of dormancy, including one that lasted nine years.
Its first eruption since 2014 occurred in mid-March, followed by two other eruptions in April and another on May 4.
Scientists say this year's eruptions have been about a quarter of the size of the ones from four years ago. The size of the eruptions depend on how much pressure has built in the reservoir of boiling water that feeds the geyser.
Earlier this month scientists deployed 28 seismographs around the geyser to gather data in hopes of catching it erupting again to learn more about Steamboat.
Yellowstone is home to more than 10,000 geysers and the world's largest volcano. Steamboat Geyser is in the Norris Basin, considered one of the most dynamic places in the park. Researchers have placed a GPS sensor in Norris Basin to record ground movement, which are generally no more than a few millimeters in any direction.