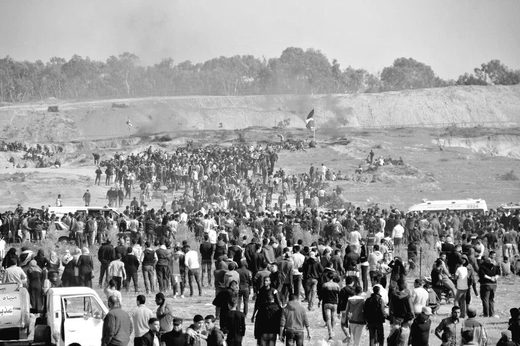 As protests at the Gaza border get underway this morning, several liberal Democratic politicians have finally objected to Israel's shooting of unarmed Palestinians at the Gaza fence. A Jewish youth group is protesting at Sen. Dianne Feinstein's office, urging her to speak out against "merciless" killings. While a report in al-Monitor suggests that Israel targeted Palestinian journalists last week because it objected to international criticism of its actions.
Today is the third Friday of the protests at the Gaza border fence called the Great March of Return.
Over 110 have already been wounded this morning,
per Palestinian media reports
. Many suffered
teargas inhalation
.
The Gaza marchers seem to be highly cognizant of the effects of their actions right now. From Mohammed Kareem, a Gaza journalist,
this morning
:
Today is Friday, and there will be another wave of #GreatReturnMarch .. We still attached to the peacefulness of protests. We still attached to face the israeli bullets unarmed and unarmoured, only by our bare chests
It is the day of burning the Israeli flag. David Halbfinger of the
New York Times
tweeted this impressive image
: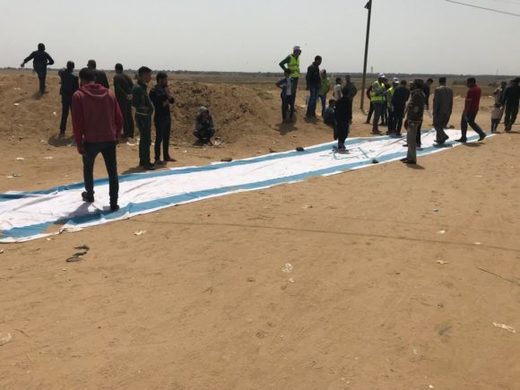 This statement was
released yesterday ahead of today's
protests, by five Democratic congresspeople: Mark Pocan (WI), Pramila Jayapal (WA), Keith Ellison (MN), Barbara Lee (CA), and Henry C. "Hank" Johnson Jr. (GA). Notice that even this statement by liberal Dems has to couch its criticism of Israel shootings with a caution to Palestinians to be non-violent.
Comment:
"We are deeply disturbed by the tragic loss of life over the past two weeks of protests carried out within the territory of Gaza, with more than a dozen Palestinians killed by sniper fire - including an unarmed teenager and a respected photojournalist - and many hundreds more injured by live ammunition.

"While it appears that the vast majority of Palestinians who have gathered to protest have been peaceful, we object to reported cases of non-peaceful actions carried out by some Gaza protesters, and we call on them to exercise their rights nonviolently. We also urge Israeli soldiers to refrain from shooting live ammunition at unarmed Palestinian protesters from hundreds of meters away, across the fence separating the two territories.

"We strongly reject the dangerous contention made on April 8 by Israeli Defense Minister Avigdor Lieberman that

'there are no innocent people in the Gaza Strip.'

Media reports suggest that on Friday, Israeli soldiers will once again be ordered by high command - in contravention of international law - to engage in sniper fire on Gaza residents who come within 300 meters of the border fence or engage in other non-life-threatening actions.

"We applaud Israeli human rights groups that are calling on Israeli soldiers to resist such illegal orders from their superiors, and are urging IDF forces to fully comply with international law and exercise utmost restraint in their use of deadly force. Such measures must only be used as a last resort to stop an imminent threat to life."

Comment: "Reported cases of non-peaceful actions carried out by some Gaza protesters" - like throwing stones? Sorry, but that's nowhere near what the Israelis do, not to mention the fact that living under brutal oppression, the Palestinians are entitled to defend themselves as best as they can.


This follows a tepid statement from Mass. Senator Elizabeth Warren,
sent to the Intercept
:
"I am deeply concerned about the deaths and injuries in Gaza," Warren said. "As additional protests are planned for the coming days, the Israel Defense Forces should exercise restraint and respect the rights of Palestinians to peacefully protest."
At least she said something, thereby joining
Bernie Sanders
and the outspoken Congresswoman
Betty McCollum
in criticism of the Israeli government.
Several leading senators declined to comment on the shootings
, to the
Intercept's Zaid Jilani
, among them rising Dem stars Kirsten Gillibrand, Kamala Harris, and Cory Booker. No surprise.
The Institute for Middle East Understanding
comments on the targeting
of journalists:
The killing of Palestinian journalist Yasser Murtaja by Israeli forces receives international condemnation and underscores Israel's refusal to recognize the legitimacy of Palestinian journalists as professionals.
al Monitor has this grisly anonymous assertion
:
An Israeli reporter who requested anonymity told Al-Monitor that the reason why journalists were targeted that particular week, unlike the previous week during protests, might be connected to concerns about being targeted by international institutions.
There is also the
Adalah report that Israel
prevented the passage of two wounded protesters from Gaza to West Bank hospitals.
As a result, the two men each have lost a leg to amputation; one is in danger of losing the remaining leg (Quick question for all you two-state-solutioners- won't Israel continue to control the corridor between Gaza and the West Bank under partition; and wouldn't that control result in such arbitrary tyrannical consequences then too?).
In the al-Monitor
article
, Ori Nir of Peace Now criticizes the targetings of journalists. "The video and images
clearly show six or seven journalists dressed as reporters [wearing vests marked 'PRESS'] and were shot on the same day
...." To my reckoning, he is the one leading liberal Zionist to be critical of the shootings. There's been a lot of silence from that quarter.

Comment: The message is clear: Don't report what we're doing!


Update:
If Not Now is demonstrating at Senator Dianne Feinstein's office, calling on her to join Sanders and Warren, and be on the right side of history, by condemning the killings of protesters.
They
add
: "The @SFPD have just arrived on site. Rather than condemn the violence happening in Gaza @SenFeinstein would rather send in the police to take care of us. WE WILL NOT BE SILENT."
This is
excellent
:
Reading the names of Palestinian protestors mercilessly killed in Gaza by the IDF. We're the next generation of Jewish leaders and we won't allow these atrocities to be committed in our name. @SenFeinstein: be on the right side of history. Condemn the violence now! #HowManyMore
In a further sign of the anger on the left, a Democrat is running for his party's nomination to Congress in a South Carolina district who calls Gaza what it is,
a massacre
. Michael F. Brown
reports at EI
on Mal Hyman, who says:
There is only one way to describe IDF's actions: a massacre. Since U.S. government is one of the biggest supporters of Israel, the onus is on us to send the message that these kinds of massacres goes against every human rights principle.