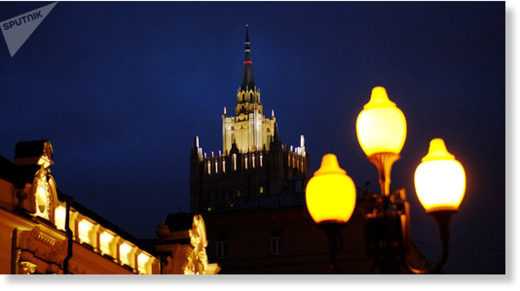 The Russian Foreign Ministry says it can't discern how to convene a NATO-Russia Council in the current climate, considering absurd NATO's statements regarding a readiness for dialogue while expelling Russian diplomats.
"Yes, indeed, seven people have been declared undesirable. And they (in Brussels) have announced that they will not issue visas to three other employees," Deputy Foreign Minister of the Russian Federation Alexander Grushko stated at the Valdai Discussion Club's event.
According to the diplomat, the next meeting of the Russia-NATO Council (NRC) cannot be convened under the conditions of Russian diplomats being expelled.
"NATO, expelling Russian diplomats, cuts the branch on which it sits. This contradicts the numerous statements made by the Secretary-General and other representatives of the alliance about NATO being interested in a political dialogue and the convening of a regular meeting of the NRC... How can it be convened under these conditions?" the Alexander Grushko said.
Moscow does not exclude that the Skripal case was plotted as the argument for NATO's increase in defense expenditures, a great enemy is needed, the deputy minister said.
"NATO has crossed the line when it continued to expand its defense presence at Russia's borders... NATO cannot ensure global security without Russia," the Deputy Foreign Minister of the Russian Federation noted.
London decided to follow a provocative path to support an atmosphere of Russophobia,
Grushko said.
"It is obvious that this is a provocation. The whole situation was turned upside down, an ideological campaign was built in such a way as to exclude a normal dialogue, professional, in fact, what happened. The UK refused to use legally binding instruments, which are fixed in the Convention on the Prohibition of Chemical Weapons. Therefore, these are all signs that this is a provocation chosen at a special moment in order to further aggravate the relations between Russia and the West, worsen the prospects for a return to normalcy, and prevent the transition to cooperation schemes in the areas of common interest," Alexander Grushko stated.
Western countries, making claims over Russia on the "Skripal case", should have understood that it is impossible to speak with Moscow in the language of ultimatums, Grushko emphasized.
"An ultimatum was delivered, which was not intended to be answered because the people who formulated this ultimatum could not fail to understand beforehand that this is not the language in which one can speak," he said.
Moscow will answer in an asymmetric way to any unfriendly NATO move in order to protect our interests, Grushko noted.
"By the way, why are they closing Sputnik and Russia Today? For one simple reason - because they [media outlets] carry out their function effectively, they really influence public opinion," Grushko said.