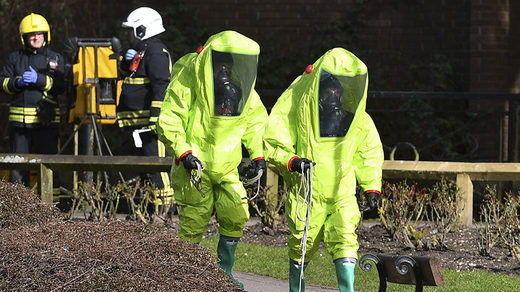 Investigators probing the nerve agent attack on a former Russian spy and his daughter believe they may have been poisoned in his home, as the hunt for culprits continues.
Sources told
The Independent
that the toxin
could have been sent to Sergei Skripal in a package that he opened in the presence of his daughter Yulia
, exposing them both.
Lord Blair, who was the Metropolitan Police Commissioner when Alexander Litvinenko was assassinated, said
a police officer who fell ill had visited the property in Salisbury
.
[...]
"I'd hope [there is a trail in Salisbury] - clearly what they are trying to find out at the moment is how the nerve agent was delivered and there obviously are some indications.
"The officer, and I'm very sorry that he has been injured, has actually been to the house,
whereas there was a doctor who looked after the patients in the open who hasn't been affected at all
.
"So there may be some clues floating around in here."
Detective Sergeant Nick Bailey
, hailed as a "well-loved and massively dedicated officer", remains in intensive care but is conscious and talking in his hospital bed.
The Skripals are in a "very serious" condition in intensive care, and it is not known whether they will recover from the attack.
A total of 21 people received treatment of varying levels after being exposed to the unnamed nerve agent, police said, but did not elaborate on how they may have come into contact with it.
Up to 180 military personnel have been deployed to remove "a number of vehicles and objects from the scene in Salisbury town centre as they have the necessary capability and expertise", police said.
The Independent
understands that
units from the Army, RAF and Navy are being deployed alongside experts in chemical, biological, radiological and nuclear (CBRN) warfare
.
They will be visiting numerous scenes cordoned off around Salisbury, including the bench where Mr Skripal and his daughter were found unconscious on Sunday, the former double agent's home, his car and an ambulance station housing the vehicle that took them to hospital.
Forensic tests have also been carried out at a branch of the Zizzi restaurant chain and The Mill pub in Salisbury, where
witnesses say Mr Skripal began to behave in an agitated manner following lunch with his daughter
.
Samples from the victims have already been tested by experts at the Defence Science and Technology Laboratory at Porton Down, a secretive military facility where nerve agents have been developed and tested over decades of controversial research.
Authorities have not named the precise nerve agent used in the attack, but
Amber Rudd described it as "very rare", ruling out the well-known and easily manufactured chemical weapon sarin.
The term is broad description for chemicals because they affect the nervous symptoms, with the most potent normally causing death by suffocation as respiratory muscles are paralysed.
First developed as weapons by German chemists in the 1930s, the most-used types are sarin, tabun, soman, GF and VX, which was used to
assassinate the brother of North Korean leader Kim Jong-un in Malaysia
last year.
They are extremely toxic and have a rapid effect, but the speed varies on whether the chemical is a gas, aerosol or liquid, and is eaten or enters the body through inhalation or through the skin.
If victims are exposed to a high concentration of nerve agent they can die within minutes, particularly if it is breathed in or ingested in food.
Poisoning takes longer when the nerve agent enters the body through the skin
, with the first symptoms not occurring until 20 to 30 minutes after initial exposure, according to the Organisation for the Prohibition of Chemical Weapons (OPCW).
The speed of action also depends on the strength of the agent itself - with VX typically being the most lethal, followed by soman, sarin and tabun.
Low doses cause minor poisoning, with symptoms including salivating, running noses, chest pressure, slurring and nausea.
A higher dose can cause difficulty breathing, coughing, cramping, vomiting, convulsions, the loss of bodily functions, unconsciousness and muscular paralysis.
The symptoms match witness descriptions of Mr Skripal and his daughter, who arrived in Salisbury for lunch at around 1.30pm on Sunday and were found unconscious on a bench at around 4.15pm - almost three hours later.
If they were exposed to the substance before leaving his home, it is likely that the effect was slowed by entering through the skin or a lower dosage.
Freya Church, a 27-year-old local resident who saw the pair on the bench, said: "She [Ms Skripal] was leaning on him, slumped. She looked passed out and he was looking up, doing these hand movements. His eyes were glazed."
A passing doctor went to help Ms Skripal described her "vomiting and fitting" after losing control of her bodily functions.
The woman, who asked not to be named, moved Ms Skripal into the recovery position and opened her airway, as others tended to her father.
A witness who saw the pair a short time earlier in The Mill pub said
Mr Skripal was behaving "erratically" and shouting loudly at one point - behaviour that could be linked to the onset of his symptoms.
The nerve agent used would have been
difficult to obtain and could have only been manufactured in a specialist laboratory
, according to a Whitehall official with knowledge of the investigation.
The substance would, it is claimed, have been relatively easy to make but the relative rarity of the material and the damage it can cause points towards the production taking place in state-controlled facilities and tracing it could point towards those who wanted Mr Skripal murdered.