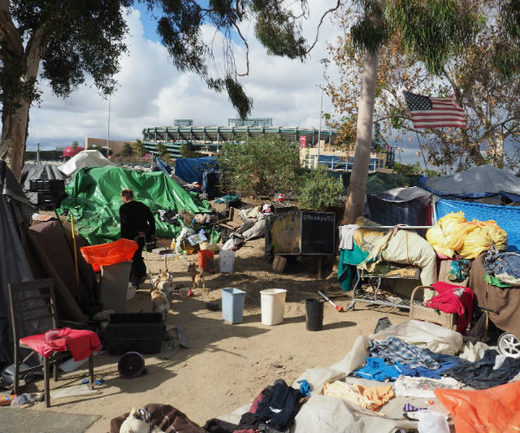 Authorities are being allowed to shut down a large homeless encampment in Southern California and move hundreds of tent-dwellers into motel rooms under an agreement Tuesday between county officials and lawyers who sued to protect tent-dwellers' rights.
U.S. District Court Judge David O. Carter lifted a stay Tuesday morning that had blocked the county from making arrests in the riverbed, setting up an impromptu "courtroom" with a table and chairs in the parking lot of the Honda Center arena, home of the Anaheim Ducks hockey team.
People will be moved off a two-mile stretch of a riverbed trail in Orange County to motels and other shelter as part of the deal, which is being watched by advocates elsewhere who are seeking solutions for homelessness.
The deal came after advocates sued to protect the rights of evicted tent-dwellers, saying they were driven there by a police crackdown on loitering in surrounding cities. The county must conduct clinical assessments of participants and provide food and storage for their belongings. Participants must agree to speak weekly with a case worker and abide by motel rules.
The encampment grew over the last several years on the trail near the baseball stadium for the Los Angeles Angels of Anaheim amid soaring housing costs. Many said they were pushed there after being cited by police for sleeping in parks or on sidewalks.
Last week, the judge, known for his unconventional style, led lawyers on a four-hour walk through the trash-strewn encampment.
How the tent-dwellers became homeless varies. Some said they couldn't earn enough at their jobs to make rent. Some said they struggled with drug addiction.
The case in the county of 3.2 million people between Los Angeles and San Diego is being watched as a potential model for how officials and advocates can address homelessness elsewhere, experts said.
Susan Price, the county's director of care coordination, said she believes about 140 homeless people still need housing, and the county has moved more than 200 people to motels since last week.
County officials said they are concerned they may not have enough rooms to immediately move everyone off the encampment.
"We see no need to push this process faster than it needs to go," Leon Page, an attorney for the county, told the judge during the parking lot hearing. "Not every person is best served by going into a motel room."
Carter, however, said he was concerned that moving too slowly might draw new people into the riverbed as they county is seeking to close the encampment.
"I am most concerned about people coming back into the areas you've cleared," Carter said.
The judge also had a gray shed brought to the parking lot, and asked whether it might be an option to temporarily house some homeless until a longer lasting alternative could be worked out. The shed was the size of one typically used in suburban yards for extra storage.
"People have had plenty of notice," he said.