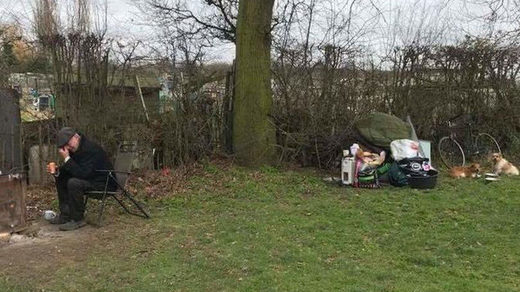 A heartbreaking photo of a man in tears has surfaced online after he was forced from his caravan by a UK council. Essex County Council evicted 63-year-old John Jones and took his van, leaving him with nowhere to live on Friday.
The picture of Jones, who was left sobbing with his two dogs and all of his worldly possessions dumped on the ground after local authorities evicted him and took his caravan, has prompted an outpouring of support from his community.
A petition with over 35,000 signatures is already calling for Essex County Council to return Jones' home, but calls for empathy appear to have fallen on deaf ears. When approached by RT to explain what complaints were made against the man and whether or not his caravan would be returned to him, Essex County Council stated that it "had previously offered Mr Jones a pitch at the local Essex Countywide Traveller Unit caravan site nearby, which he declined."
"Last month we visited him to conduct welfare and human rights checks. Unfortunately, a court summons was our last resort following complaints from local residents. When Mr Jones did not attend his court hearing, we gave him an additional 24 hours to respond and then a further 48 hours to leave the site.
"When this time elapsed, his caravan was placed into secure storage and he was given the details of Harlow Council's housing team for ongoing help and support.
"We understand Harlow Council has been in touch with Mr Jones to offer housing support and our Homelessness Mentors scheme has also been contacted to offer help to Mr Jones."
Following the incident, Harlow resident Alfrea Tobias started the
Change.org petition
after she discovered what had happened in her own backyard.
"I just wanted to help...
I think the council are disgusting for leaving a 63-year-old man homeless with no other provisions,"
"I've actually emailed Essex County Council myself but as of yet have had no reply."
When asked if she was proud of her community for rallying around Jones, Tobias replied: "Of course I'm proud, I think people will always help if they can and this just shows it.
"I just hope John gets the help he needs now, no one deserves to be on the streets especially at this time or year."
Harlow Council told RT that it was aware of the considerable local concern regarding Jones' welfare.
"We have not removed or had any involvement in the removal of his caravan," the spokesman said. "The land is owned by Essex County Council. We are making enquirers with them about what has happened to the caravan and if any support is being provided to the gentleman.
"We work with local organizations to connect anyone who is homeless with local services and help. This includes us providing housing support and advice to those who need and want help.
"One of our housing officers visited Mr. Jones on Saturday to offer housing support and the officer has remained in contact with him. There is support available and Mr. Jones has been advised to contact us if he wants our help."
Chess Homeless Charity in Essex confirmed that it was aware of the story regarding Jones, but had not had any contact with him. The charity told RT that, in its experience, Essex County Council did not have a habit of targeting the vulnerable.