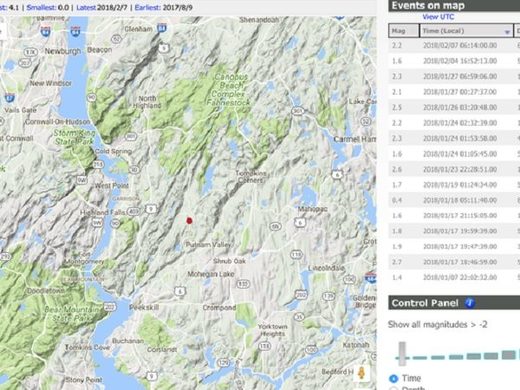 Many residents of Putnam and northern Westchester counties woke up with a bang this morning, and not because of the impending storm.
A 2.2-magnitude earthquake was reported about three miles northwest of Mohegan Lake in Yorktown, according to the United States Geological Survey. The epicenter of the quake, which was reported at 6:14 a.m., was in Putnam Valley, according to the USGS.
People throughout the area posted on social media about feeling the quake, including residents of Chappaqua, Cortlandt, Lewisboro, Mahopac and Putnam Valley, and even Monroe in Orange County.
Erik Contzius said he felt the earthquake at his home in Peekskill.
"I thought it was a snowplow at first," he told The
Journal News/lohud
. "But then the entire house started shaking. My first thought was Indian Point or something bad happening."
Contzius said "there was a little bit of relief" when it was confirmed to be an earthquake.
@chappaqua@earthquake Strange doings this morning. Earthquake around 6:15am. Could hear it AND feel it.

- Gary Schonfeld (@gary_schonfeld) February 7, 2018
@USGS earthquake this morning in the Northeast? Loud boom and rumbling!

- Tim (@tstrang24) February 7, 2018
It was a small earthquake, the type that hits this area every two to three years, said Won-Young Kim, a research professor at the Lamont-Doherty Earth Observatory in Palisades. The last earthquake that measured this strong around here was in 2014, when a 2.5-magnitude quake hit near Peekskill, he said.
People don't usually feel smaller quakes in this region, he said, but plenty of people were shaken by today's.
"Sounded like very loud thunder and heard things in the house rattling like change on the dresser and the doors rattling," Jennifer Fialkovic, a Cortlandt resident, commented on Facebook.
"My entire house shook and rattled here in Cortlandt Manor/Garrison," Kristin Bergamini wrote on Facebook.
Two very small aftershocks - both registering 1.3-magnitude - followed the main earthquake. The first aftershock appeared around 6:16 a.m. and the second around 8:40 a.m., the USGS website said.
Last year,
a 1.3 magnitude quake rumbled in Pawling
on April 10. Putnam County residents in Brewster, Carmel, Patterson and Putnam Valley, as well as Dutchess County residents in Wingdale reported to the USGS that they felt the earthquake.