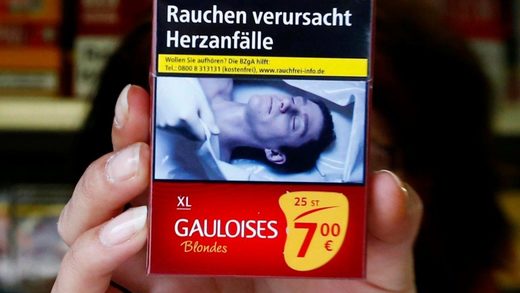 In 2012, I decided to take a year-long sabbatical in Europe, eventually settling on Berlin. I'm quite a structured, career-minded person and I wanted to see what it was like to move somewhere with no plan, no friends and no money.
I saw an advert looking for models for tobacco warnings.
It was paid, so I applied and made the shortlist. I asked what I needed to bring to wear and they sent me a one-line email saying: "This is what we need you to do," and attached a picture of a naked guy curled up in a ball. They told me I would get €100.
The other people on the shoot were from the photographer's agency.
They were after all sorts of setups: "Woman looking sad in wheelchair", "Man blowing smoke in a baby's face", "Dead man in a morgue".
I went into a weird studio and they told me to take all my clothes off. I lay down on a makeshift bed while two guys on ladders stood over me, photographing. They were directing me from up there,
asking me to look more anguished, or more angry,
or asking me to rearrange myself because my testicles were in shot. But they got the shot.
It wasn't until the cigarette packets came out that I discovered it would be a warning about impotence.
The next shoot was even weirder. This time, I was offered €200 and asked to come to a disused hospital on the outskirts of Berlin.
They painted my face grey
, put me in a body bag and took me to the morgue. Being in a body bag really freaked me out, especially when the photographer zipped the bag up fully and whispered: "This is for Dresden," before unzipping me. He had a dark sense of humour. That's the warning advert where I'm playing the dead guy.
I ended up finding some more acting work in Berlin, had a great time and eventually ended up back in London and didn't think about it again.
Then, in autumn 2016
, I got an email from a friend in Berlin saying: "Is this you?" with a picture of dead me on a packet of Marlboros
. I went to my local shop and saw my face all over the wall behind the till. I was everywhere - in all 27 EU countries in fact. There were millions and millions of packets with me on them. It's not the first thing I tell people, and no one came up to me on the street, but I was constantly seeing my face in pubs, on the street, in shops. It was weird.
Over time my friends started sending me things they found:
there were sad poems on Facebook about the dead guy on the cigarette packet,
and I saw a bag at London fashion week that was made up of tobacco pouches with my face on them. I didn't get to go to Glastonbury this year, but my friends who were there told me I was everywhere, in the mud.
I kept some of the different packets as mementoes. I think those adverts are being phased out now, but I still pop up now and then. Recently, my mum was on holiday in Spain and she was chatting to some people about her children. When one asked about her eldest - that's me - she pointed at an empty cigarette packet trodden into the pavement and said: "That's my son."
At €300 for millions of reproductions of my naked body, it definitely wasn't a lucrative shoot for me, but I hope that those warnings work - that I put some people off smoking, or maybe even save some lives. Maybe. Oh, and I don't smoke. I should probably mention that.