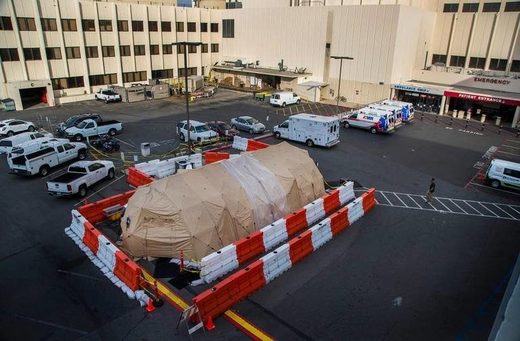 As people with the flu streamed into Missouri hospitals this month, small facilities at times struggled to find places where they could transfer patients who needed higher levels of care.
J. Christopher Lang, the CEO of Cass Regional Medical Center, said his hospital in Harrisonville has had to divert ambulances to other emergency rooms when his was full and hold patients who needed to go to bigger hospitals when those facilities were on diversion.
"We've run into it off and on over the last couple of weeks, so yes, there's been some inability to transfer to a higher level of care because of beds being full," Lang said.
Dave Dillon, a spokesman for the Missouri Hospital Association, said the state saw "a significant jump in ambulance diversion" in January that represents "the increased strain on hospital EDs (emergency departments) and could reflect inpatient bed availability." Dillon said diversion hours statewide climbed from 0.45 percent in November to 0.65 percent in December to 3.54 percent in the first two weeks of January.
The flu, or influenza, is widespread throughout most of the United States this year, and although most cases don't require hospitalization, hospitals are feeling the strain of those that do.
The Los Angeles Times
reported last week that some hospitals in California had
set up tents in parking lots
to triage patients.
Most cases of flu can be treated with rest, fluids and Tamiflu, an antiviral medication. But some cause breathing problems that can be fatal. There have been at least 690 influenza and pneumonia related deaths
in Kansas
this flu season as of Jan. 20 and 659
in Missouri
as of Jan. 6, according to the most current available data.
Fox4 News reported
that 57-year-old Lee's Summit resident Glen O'Neal was among this year's flu victims.
Most flu deaths occur in people who are elderly or frail, but the Centers for Disease Control has
recorded 30 deaths in children
nationwide this year.
According to Kinsa, a smart thermometer company that tracks flu-like symptoms, Missouri was
the sickest state in the country
earlier this month, with an estimated 5.2 percent of the population showing symptoms. Kansas wasn't far behind. Missouri and Kansas both have more hospital beds per capita than California, and there have been no reports of tents in parking lots here. But there have been some delays in getting care.
Michael Thomas Rothermich, the chief of medical staff at the Hermann Area District Hospital near St. Louis, said twice in a span of one week he had patients with serious heart problems who had to stay in his emergency department for hours until a bed opened up for them elsewhere.
In the meantime, he and his staff had to do their best, even though his 24-bed hospital has no intensive care unit.
"In both cases there were no ICU beds, no floor beds, no telemetry beds at any of our (larger) hospitals," Rothermich said. "This is unprecedented for me."
Rothermich, who has been practicing for 11 years, said the situation seems to have improved in the last few days. But the experience made him wonder if Missouri is prepared for a contagious disease pandemic, or even prepared if the current flu season doesn't abate.
"Is there a contingency plan if it had gotten worse?" Rothermich said.
Derek Collins, the co-chair of the Mid-America Regional Council's Hospital Subcommittee, said there's been no systemic bed shortage in the nine-county area surrounding Kansas City that MARC tracks. He said the number of hospitals on ambulance diversion "ebbs and flows" but it seems to be going down this week and only four out of 33 were on diversion Tuesday morning.
"All of us have some very full EDs (emergency departments) at this time, as everybody does in the state and the nation," Collins said.
Collins said he couldn't release diversion data for earlier in the month, or data from the subcommittee's regular "bed polls" of MARC member hospitals.
But he said based on what he's seen, the Kansas City area has not been under as much strain as St. Louis.
Lang said it's not the worst transfer delays he's seen on the west side of the state, but it's the worst in awhile.
"It has happened in the past with heavy flu seasons but hasn't been the norm over the last couple of years," Lang said.
The flu may have peaked in Missouri, where the state health department reported a slight drop in laboratory-confirmed cases last week. The Kansas Department of Health and Environment reported that cases were still increasing in that state last week, but at a slower clip.