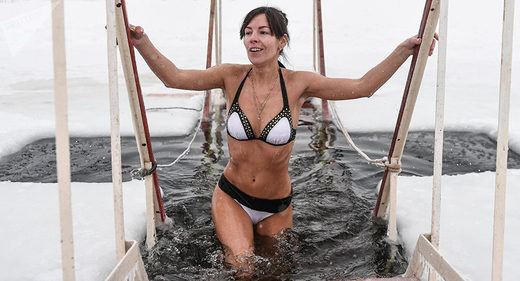 More than 1.5 million Orthodox Christians across Russia, including those from the freezing Sakha Republic, participated in this year's mass bathing ritual held on January 18-19. No matter how low temperatures have dropped, tradition is followed by any means.
Severe frosts in Russia's Sakha Republic (Yakutia) can't scare locals - they continue their lives as normal and even plunge into icy waters as part of the Orthodox Epiphany ritual to mark the baptism of Jesus Christ in the waters of the Jordan River.
Epiphany bathing was held for the first time in Verkhoyansk, a town in Yakutia, which is considered to be the Pole of Cold of the northern hemisphere. As the temperatures plunge to a bitterly cold -63 degrees Celsius, local hieromonk Hermogen performed the ritual of water consecration, and dozens of bold-spirited believers dipped themselves in the ice-hole.
The people of Oymyakon, a Yakut settlement which is also believed to be one of the coldest inhabited places on Earth, also took part in the annual Epiphany bathing.
Some thrill-seekers performed the religious rite in a river at -61° С.
In the city of Yakutsk, where it was slightly warmer, with the air temperatures of about -45 degrees, there were three ice-holes arranged for the mass bathing. Moreover, there were special tents set up next to every ice-hole where people could warm up, change clothes and have a cup of hot tea after the icy plunge.
"Guys, it's pure bliss! [It's so great] when you can step over your fears and principles, wash away the burden from your body and soul," one of the believers shared his experience on the Internet after the Epiphany bathing.