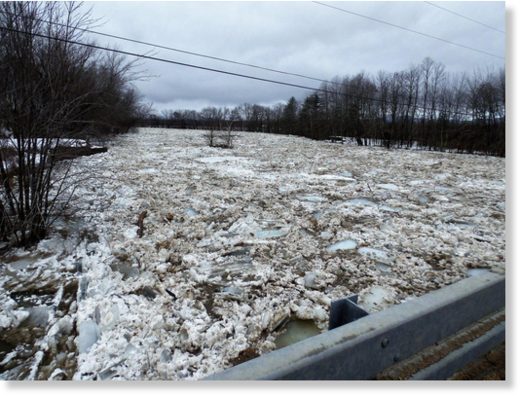 Ice jams have caused severe problems along some rivers in north eastern USA and eastern Canada since 12 January, 2018. States of emergency have been declared and around 200 people have evacuated their homes and north eastern USA and a further 100 in New Brunswick, Canada.
Heavy rain over the last few days has also caused rivers to overflow and some surface flooding.
Two people died in West Virginia when their vehicle was trapped in flood water.
Flood rescues were required in Pittsburgh after a major road was flooded.
Ice jams in northeastern USA
Media have reported dozens of ice jams along rivers in north eastern USA. Below is a short summary of some of the floods.
Parts of the Connecticut River near Haddam are so blocked,
ice breakers from the US Coast Guard have been called in to break the jam.
The Connecticut town of Kent declared the local state of emergency Monday, 15 January, 2018 after an ice jam caused the Housatonic River to burst its banks. According to the Associated Press,
officials said the ice jam is a mile long and estimated to be as

thick as 12 feet in places

.
In Sylvan Beach, New York, an ice jam on Fish Creek caused flooding up to 5 feet (1.5 metres) deep in some areas. Around 100 residents were evacuated from their homes, according to
local media.
Here's a picture of a shed in Sylvan Beach where the flood line exceeded over 4 feet! Be sure to watch tonight at 5 & 6 on how residents are making their way back into their homes @WKTV pic.twitter.com/z8EErT7L8G

— Cody Mooney (@cmooneynews) January 15, 2018
Also in New York, flooding caused by an ice jam on the Salmon River has forced 37 people to evacuate their homes in Fort Covington. Around 17 houses have been damaged.
Local media said
State Police made a helicopter pass over the hamlet on Sunday to access the situation and reported a
"5-mile-long ice jam from Fort Covington north right on to the St. Lawrence River".
In
New Jersey
, roads have been closed near Trenton, after an ice jam caused the Delaware River to overflow.
A six-mile ice jam floating on the Missisquoi River has caused flooding in Vermont. Around 35 people have evacuated their homes in Swanton.
Local media said "
The dangerous combo of last week's rapid snow melt, followed by heavy rain and a six-mile ice jam on the Missisquoi River, sent water gushing onto a stretch of Route 78 near the Missisquoi National Wildlife Refuge."
An ice jam on the Saco River
flooded
parts of Fryeburg, Maine, on Sunday 14 January, 2018.
Pennsylvania
Around 100 people were
evacuated
in Tarentum and East Deer, Allegheny County, Pennsylvania, after the Allegheny River and a nearby creek flooded.
In Pittsburgh, a storm on Friday 12 January caused flooding in low-lying areas along Interstate 376, leaving some drivers trapped and requiring assistance. The section of the road was closed until late Sunday.
West Virginia
Heavy rain in West Virginia caused some flooding in Wood County, where a car became trapped in flood waters from the overflowing Laurel Creek near Parkersburg. Local media
reported
that 2 people died in the incident.
New Brunswick, Canada
Heavy rain from Friday 12 January caused flooding in parts of New Brunswick province, Canada. Roads were blocked leaving some communities isolated.
The towns of Corner Brook, Humber Arm South, Lark Harbour and York Harbour all declared a state of emergency.
More than 100 people in Musquash were evacuated from their homes on 13 January due to concerns about the water level at the nearby East Branch dam, according to
local media.