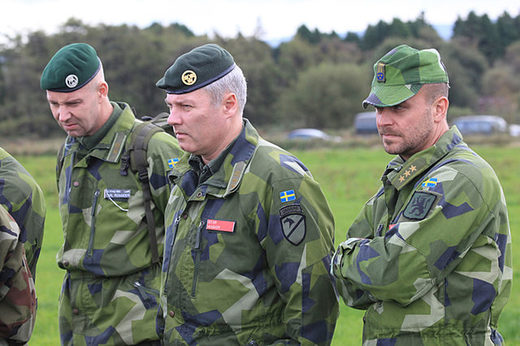 Sweden will do whatever it takes" to end a wave of gang violence that has swept throughout the country, Prime Minister Stefan Lofven said on Wednesday, according to Reuters.
The idea of getting the military involved in resolving the issue of 'no-go' zones within Sweden's cities, where a large majority of migrants reside, was floated when Sweden's political leaders debated how to combat problems with gang crime in the country.
With the country's center-right and right-wing media referring to the crisis as the 'Sweden civil war,' the police department's inability to cope with more than 300 reported shootings last year seems to be going in their favor.
The first Riksdag debate of 2018 between Sweden's party leaders follows a string of deadly shootings in Malmo and Stockholm that had happened in recent weeks, as well as the death of a man from a hand grenade.
During his opening statement at the debate, the Prime Minister spoke about shootings and gangs and identified them as one of the biggest problems Sweden is currently facing. He also added that more needs to be done to combat them including attacking their economic resources and a tightening of rules.
"We're going to continue to combat the forming of a parallel society. Today we need rules to be tightened, increasing control to cut out economic criminality," he told the Riksdag, The Local reported.
Opposition Moderate leader Ulf Kristersson followed suit and demanded tougher legislation to fight crime and avoid the possibility of a civil war in Sweden. "The state should take back control. This is not a negotiation," he said at the debate.
Jimmie Åkesson, the leader of the far-right Sweden Democrats, was more extreme in his address, saying that his party wants to "declare war" on organized crime. Åkesson also suggested using military help to support the police could be an efficient way to combat these issues.
With law and order now being a major issue in the upcoming parliamentary elections in September, it's no wonder that Lofven, the leader of-of Sweden's center-left Social Democratic Party, had taken a tough stance on the rising crime rates that could lead to a Sweden civil war.
In an interview with Swedish news agency TT that followed the Riksdag debate, when asked about what he plans on doing about the escalating situation in the country, Lofven said:
"It would not be my first option to bring in the military, but I am prepared to do whatever is necessary to make sure that serious, organized crime is stamped out."
When contacted by The Local for clarification, a spokesperson for Lofven said that the Prime Minister was not saying he was prepared to get the military involved, but that "he is ready to do what is required" to get rid of gang criminality.
"The military is not one of the first options, but we will look at a number of other measures. If that's not enough, the PM does not want to speculate what comes after," Löfven's press secretary Jonatan Holst wrote according to The Local.
Reuters reported that in response to the rising crime rates, especially within the secluded, no-go zones in suburbs of Sweden cities, the government has promised to increase police funding for an extra $880 million through 2020. Apart from the increase in funding, the government also plans to tackle Sweden's civil war with multiple other measures, including toughening laws on gun crimes and making it easier for the police to monitor private phone calls and emails.
"This is the new Sweden; the new, exciting dynamic, multicultural paradise that so many here in this assembly ... have fought to create for so many years," Sweden Democrat leader Jimmie Akesson sarcastically said during his address to the parliament. Akesson referred to the high numbers of migrants from Central and North Africa, as well as Syria, that have arrived in Sweden thanks to the country's liberal immigration laws and generous welfare system.