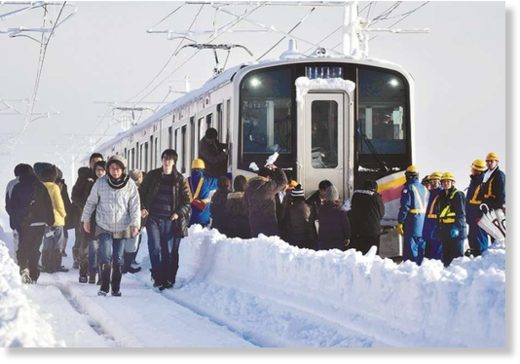 Snow is continuing to fall on and off in areas of western to northern Japan.
The Meteorological Agency says some mountainous areas have received 30 to 50 centimeters of snowfall for the 24 hours until noon on Saturday.
As of 11 AM, the city of Ono, Fukui Prefecture, had 83 centimeters of accumulated snow, and Kitahiroshima, in Hiroshima Prefecture, had 128 centimeters.
The city of Niigata, facing the Sea of Japan, has had

8 times the average snowfall

for this time of year.
More snow is forecast, particularly for areas along the Sea of Japan. Weather officials are warning of icy roads, avalanches and snow-related accidents.
Officials of Ishikawa Prefecture say a 91-year-old woman was found dead in a drainage channel on Friday. She is believed to have fallen while shoveling snow. The officials say 10 other people were injured while clearing snow.
Heavy snow in Niigata's Sanjo City also left a passenger train stranded for more than half a day on Thursday. About 430 people were trapped on board.
The operator, East Japan Railway Company, says it took more than 9 hours for a snowplow to arrive at the scene.