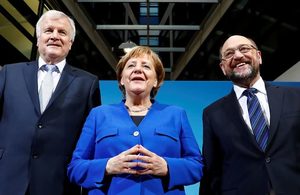 There was relief in Berlin and Brussels today as Angela Merkel's center-right Christian Democratic Union (CDU) party and its Bavarian CSU ally announced that they were, in principle, on track to form a repeat coalition of Germany's previous government with Martin Schulz's left-center Social Democrats party (SPD). The deal is not yet clinched, however, as SPD party members won't vote on any arrangement until they hold a special congress on 21 January. And even then,
predicts Horst Seehofer
, head of the CSU, a government may not be in place until April,
some 6 months since the election in late September 2017
.
This is uncharted territory for modern Germany. Drawn-out electoral processes are something they're used to mocking Italians about, but with both Merkel's and Schulz's parties clocking their worst election results since the Weimar Republic, political instability has returned to Germany in a big way. Unlike the CDU/CSU-SPD 'grand coalition' government from 2013-2017, this time around the largest party they face in the Bundestag is the AfD (Alternative für Deutschland), which, as a new right-wing nationalist party, poses a 'dangerous threat' (from the establishment's point of view) as the 'official' opposition.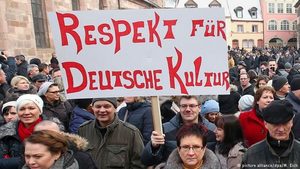 Having weighed the options over the last four months, Merkel and Schultz have apparently decided they have no choice but to go with the devil they know and risk ceding further ground to the populist right in the future. Billing this joint announcement as a "
new dawn for Europe
," Merkel is keenly aware that it is not just social cohesion in Germany that is at stake, but also the survival of the EU. Trumpeting their compromises on taxation and environmental issues, and promising deep reform of the eurozone,
the elephant in the room, however, remains - for Germany as for the rest of the EU - mass immigration.
Merkel's (and the EU's) wrong-headed policy of allowing millions of immigrants into Germany is, after all, the reason this political crisis has come about. A significant percentage of the German electorate voted against mass immigration last September, dealing those big losses to the two establishment parties. Yet mass immigration isn't just a problem for Germany, as 'quotas' are handed out by Germany to other EU capitals to take their 'fair share'. And even if Germany takes the lion's share, once in Germany, immigrants are under no obligation to stay there and effectively have freedom of movement around the EU. With the increasing number of jihadist terror attacks in the bloc in recent years, and the likelihood that jihadists are entering the EU with immigrants, it's hard to see German immigration policy as anything other than a recipe for chaos.
The hare-brained scheme to let in millions of migrants from the Middle East and North Africa, at a time when terrorism and security are uppermost in people's minds, and to do so with
zero democratic consultation
, has unnerved European populations and hit establishment parties around Europe hard at the polls since 2015. Even as Germany's economic performance indicators remain strong, the elites are playing with fire when
they tell people to
"just get used to mass migration." Are they really so out of touch with reality that they don't see that '
bridging resource gaps
' by 'assimilating' millions of non-Europeans is generating social upheaval?
Apparently so. I spoke with PressTV about this yesterday:
And Joe Quinn followed up with them today: