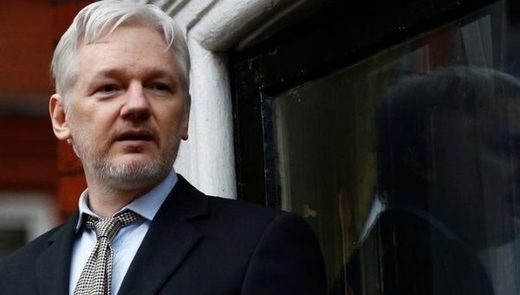 The Ecuadorean president warned Assange to refrain from commenting on politics of the nation's allies
After living five years behind the safety of Ecuador's London embassy, Julian Assange may be in for a change of scenery.
Ecuador is seeking out a third country or individual to mediate the safe passage of Assange from its Embassy in the United Kingdom, the country's foreign minister told a press conference on Tuesday.
"The foreign minister of Ecuador Maria Fernanda Espinosa said they are seeking the mediation of a third country or personality so that Julian Assange can leave the embassy in London," teleSUR's Orlando Perez tweeted.
The legal team for the digital publisher did not respond directly the Ecuadorean minister's statements, but reassert Assange's right to be released from being "unlawfully and arbitrarily detained."
"The UN ruling - issued almost two years ago - is crystal clear in its language -
Mr. Assange is unlawfully and arbitrarily detained by the UK authorities and must be released
," said Mr Assange's legal team in a message to teleSUR.
"The UK should not permit itself to be intimidated by the Trump administration's public threats to 'take down' Mr. Assange."
Assange has received numerous warnings from the newly elected Ecuadorean president Lenin Moreno requesting the journalist refrain from commenting on politics of the nation's allies.
However, the WikiLeaks founder publicly rejected the idea in a Tweet in September saying: "If President Moreno wants to gag my reporting of human rights abuses in Spain he should say so explicitly--together with the legal basis."
Moreno has defended the activist on numerous occasions, continuing in his predecessor, Rafael Correa's, footsteps in maintaining amnesty for as long as "his life may be in danger."
"I respect the situation he is in, which calls for respect of his human rights, but we also ask that he respects the situation he is in," Moreno said following his election to the presidency.
Assange was granted asylum as a "journalist" in 2012 to avoid extradition to Sweden over rape allegations.
Assange, who denies the allegations, feared Sweden would hand him over to the United States to face prosecution over WikiLeaks' publication of thousands of classified military and diplomatic documents in one of the largest information leaks in U.S. history.
The investigation was later dropped in May of 2017, though British police warned he would be arrested immediately following any attempts to leave the Ecuadorean embassy.
Right-wing opposition figures in the Andean nation have long objected to the amnesty.
"The situation of Assange in the embassy is unsustainable," said César Ricaurte, head of a Quito-based nonprofit for press freedom, Fundamedios. "He has converted himself into this great conspirator against the major democracies. I think the government is looking for a way out."
Assange dodged one eviction order in the nation's election last year, after the right-wing candidate who had vowed to kick him out of the embassy lost to Moreno.