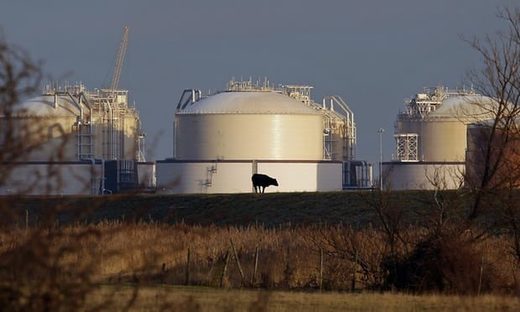 The first-ever shipment of Russian gas to the UK looks likely to head straight back out on another ship, disproving Moscow's claims that Britain will be reliant on it for supplies this winter.
National Grid confirmed that gas from a Russian field targeted by US sanctions had been delivered by a Russian icebreaker to storage facilities at the Isle of Grain in Kent on Thursday night.
Russian media seized on the delivery of liquefied natural gas (LNG) to claim it would "keep Britons from freezing this winter" while the Russian embassy in the UK tweeted: "Feeling cold? Help is on the way."
However,
industry
experts said the
most likely scenario
was that the UK would simply be a stopping-off point for the gas, which could fetch a much higher price in Asia.
Ed Cox, the editor of global LNG at the market intelligence firm ICIS, said: "I would urge some caution [on the idea Russian gas will be supplying the UK]. There's another empty LNG vessel outside the Isle of Grain now, which looks like it's going to come in and pick up that cargo.
"The [gas] prices are much more attractive in Asia and India than they are in Europe."
Market sources had told ICIS that the LNG was expected to be picked up by the other ship, he added.
A spokesperson for National Grid said the gas had not entered the national network of pipelines that supplies homes and businesses.
The Christophe de Margerie tanker arrived at the Isle of Grain at about 7.20pm on Thursday and has been offloading its gas to huge storage tanks before a planned departure at 6pm on Friday.
The icebreaker set off earlier this month from the Yamal LNG project in the Russian Arctic, a gas field that is jointly owned by the Russian gas producer Novatek, the state-owned China National Petroleum Corporation and the French oil firm Total.
The project is one of those affected by US sanctions against Russian energy projects, though not directly by UK sanctions.
The ship's departure came after UK gas prices soared in mid-December when a major North Sea oil and gas pipeline was shut down after a crack was discovered.
Ineos, owner of the Forties pipeline system, said this week the crack had been repaired and normal operation would resume "around the new year".
UK gas prices have since fallen back down to normal levels, and Cox said the real story was not Russian gas but imports from Belgium.
"We are on course for very high gas pipeline imports from Belgium, potentially for a four-and-half-year high," said Cox.