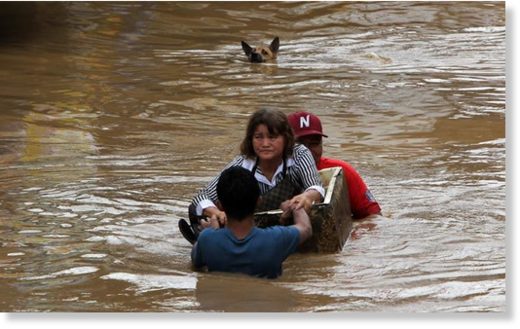 Massive flooding, reminiscent of the deadly 2011 Tropical Storm Sendong, hit this city Friday morning, December 22, after Tropical Storm Vinta (international codename: Tembin) battered Mindanao Thursday night.
The City Disaster Risk Reduction Management Department (CDRRMD) placed the city on red alert Friday morning as the Cagayan River reached its critical level.
"It was like Sendong all over again, but only this happened in the morning," a resident said.
Sendong (international codename: Washi) ravaged Northern Mindanao and Caraga regions on the night of December 16, 2011, leaving more than 1,200 people dead -- at least 900 bodies were found in Cagayan de Oro.
As early as Thursday morning, December 21, provincial and city disaster officials have already called for voluntary evacuations due to the continuous downpour brought by Vinta. Misamis Oriental Governor Yevgeny Emano placed the province on code red status, even calling for a disaster meeting immediately after the state weather bureau announced that Vinta is set to enter the country.
By Thursday night, voluntary evacuations were already undertaken in areas like Consolacion, one of the barangays in the city hardest hit by Sendong.
By 10 a.m., Friday, Cagayan River started to rise beyond its critical level of 5 meters to 6.6 meters. It reached its highest at 9.48 meters by 11:20 a.m.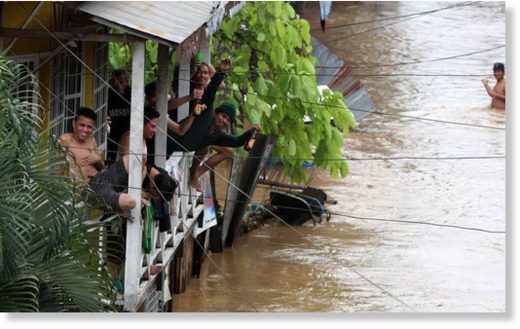 As of 2 a.m., the CDRRMD totaled 22 barangays affected by the flooding, which ravaged houses and affected some 3,735 families or 14,041 individuals
, who are now housed in 27 evacuation centers.
By 3 p.m., City Information Officer Maricel Casiño-Rivera said, "the worst is over...but rescue operations are still underway". Rescue operations were undertaken in barangays Carmen, Tablon, Cugman, Gusa, Bonbon, among others. Dikes built by the Department of Public Works and Highways (DPWH) to prevent flooding are of no use as river water leveled the height of the structure.
Some areas were also closed to traffic. The Roads and Traffic Administration (RTA) declared Biasong to Tinib Road from Bell Church area impassable to light vehicles, portion of Puerto and Tablon highway, Acacia St. at Carmen, and Domingo Velez streets, are also impassable to light vehicles.
Authorities implemented a one-lane traffic scheme along Barangay Cugman Bridge after a reported crack, while the Ysalinna Bridge was closed to all vehicles as flood threatened to overflow it.