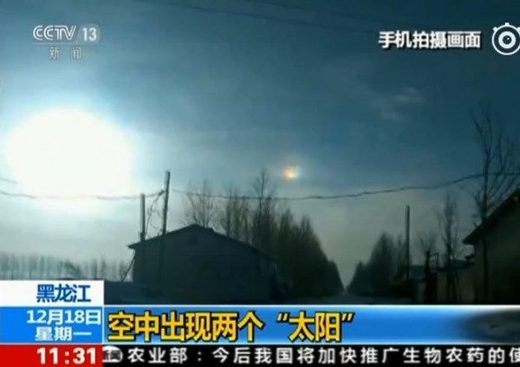 Residents of the northeastern Chinese province of Heilongjiang said that last Sunday morning they saw a small sun appear next to a larger one
as the mercury plunged to minus 24 degrees Celsius.
The phenomenon is known as a "sun dog" or mock sun, an optical phenomenon which appears as a bright spot to the left or right of the real sun within a 22-degree halo. It is caused by the refraction of sunlight by ice crystals in the atmosphere, and has been known since Greek Antiquity.
Residents of the town of Hailun said they witnessed the sun dog Sunday around 9 a.m., and that it lasted for about five minutes.
Other parts of Heilongjiang, including the city of Daqing, also mentioned report of having seen two suns in the sky. According to farmers in Hailun, this was the first time ever that they had seen such a phenomenon.