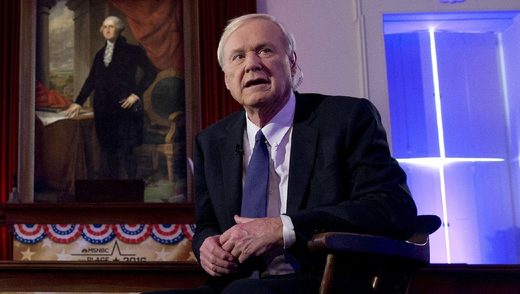 NBC made a separation-related payment years ago to an employee who worked for Chris Matthews after she accused him of sexual harassment, according to a report Saturday.
The unidentified woman, a former assistant producer on his MSNBC show, "Hardball with Chris Matthews," told company executives that Matthews made inappropriate remarks and jokes about her with others present,
the Daily Caller reported.
After a review, Matthews received a formal reprimand, but it was determined that his comments towards the woman were only childish and inappropriate and not meant as propositions.
Sources told the outlet that NBC paid the woman $40,000 in a 1999 settlement, but an MSNBC spokesperson disputed the amount, claiming it was lower.
While the woman reportedly left MSNBC and went on to work in other journalism-related jobs, Matthews has remained a fixture at MSNBC, still hosting the "Hardball" show he's had since 1997 and also had hosted another program, "The Chris Matthews Show," from 2002 to 2013.
Matthews has raised eyebrows before, notably during the 2016 campaign when he was
caught on a hot mic
checking out Melania Trump, wife to President Trump.
"Did you see her walk? Runway walk. My God is that good," Matthews said in May 2016. "I could watch that runway show," he added.

Comment: What's that about glass houses and stones?


Matthews, now 71 years old, has railed against Trump for making sexist and demeaning comments about women. He is married to Kathleen Matthews, the chair of the Maryland Democratic Party.
Before joining MSNBC he worked as a Capitol Police officer and later waded into politics. His jobs working for Democrats included being a speechwriter for President Jimmy Carter and chief of staff to House Speaker Tip O'Neill, D-Mass.
The report Saturday follows other revelations about sexual misconduct accusations aimed at prominent members in the media, including NBC's Matt Lauer, who was fired from the network in late November.