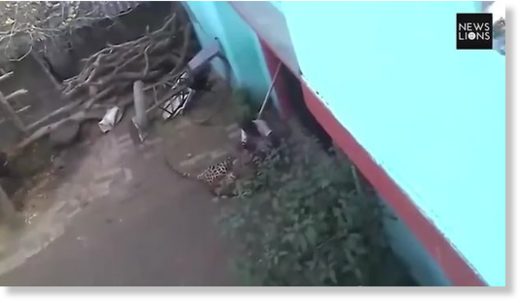 This is the terrifying moment that a 60-year-old man fights off a leopard with his bare hands.
Blood curdling screams can be heard as the man wrestles with the big, muscular cat in the video, after it went on a rampage in an Indian village where it attacked at least two other people.
A horrified crowd watched as the man was almost ravaged by the wild cat but villagers eventually managed to scare it away from the village of Khairi in the Bahraich district of Uttar Pradesh last week.
During the attack, the cat pounced on the man and plunged its claws into his flesh while sinking its teeth into his limbs while trying to wrestle him to the ground.
But he grappled with the cat and grabbed a large stick to use as a weapon and a shield, and eventually managed to pull free from the predator's grasp.
As the cat retreated to nearby sugarcane fields, the man could be seen stumbling about the street for a few moments clutching the large stick while he regained his composure, bloodied shirt ripped and falling from his injured torso.
The wild animal went on to attack a neighbour and then a 50-year-old woman who was sunbathing outside her home.

The three people were taken to hospital where they were treated for their injuries.
One onlooker said: "The leopards first entered into the courtyard of the house.
"As people started hooting and chasing the beast away, the leopard entered into the house of the 60-year-old man and mauled him brutally.
"When his neighbours' son tried to help the man, the leopard pounced on him.
"Both the men put up a strong fight against the leopard.
"Sensing trouble with the number of people increase at the scene, the leopard ran away.
"Next, it pounced on a 50-year-old woman who was sunbathing in front of her house.
"Villagers intervened in time to help her save from the animal.
"As people started to chase the leopard, it disappeared into the sugar cane fields."
Government forest officials are investigating the attacks which happened on December 7.