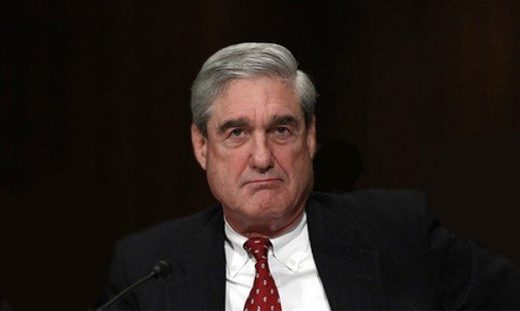 The Flynn plea makes it difficult for Trump to can the special counsel without inviting charges of a cover-up and sparking a constitutional crisis.
The Dec. 1
plea deal
struck with President Trump's former national security adviser, Michael Flynn, marked a big step forward in Robert Mueller's Russia investigation. It may also have provided some protection for Mueller against being fired by the president-and helped ensure that his probe will continue, even if one day he's not leading it.
Flynn pleaded guilty to one count of lying to federal agents about his communications with the Russian ambassador last December. Given the other
potential crimes
that Flynn may have committed, including his failure to disclose that he was being paid millions of dollars by a Turkish company while serving as a top official in the White House, the relatively light charge signaled to many that Flynn had something significant worth sharing.
As Mueller's probe has gotten closer to Trump's inner orbit, speculation has risen over whether Trump might find a way to shut it down. The Flynn deal may make that harder. For one thing, it shows that Mueller is making progress. "Any rational prosecutor would realize that in this political environment, laying down a few markers would be a good way of fending off criticism that the prosecutors are burning through money and not accomplishing anything," says Samuel Buell, a former federal prosecutor now at Duke Law School.
The
Flynn plea
also makes it difficult for Trump to fire Mueller without inviting accusations of a cover-up and sparking a constitutional crisis
, says Michael Weinstein, a former Department of Justice prosecutor now at the law firm Cole Schotz. "There would be a groundswell, it would look so objectionable, like the Saturday Night Massacre with Nixon," Weinstein says, referring to President Richard Nixon's attempt to derail the Watergate investigation in 1973 by firing special prosecutor Archibald Cox.
Even if Mueller goes, his team is providing tools that other prosecutors or investigators can use to continue inquiries.
Flynn's deal requires him to cooperate with state and local officials as well as with federal investigators. That includes submitting to a polygraph test and taking part in "covert law enforcement activities." Mueller also has provided a road map to state prosecutors interested in pursuing money laundering charges against Trump's former campaign chairman, Paul Manafort.
Mueller's case against Manafort lays out a series of irregular wire transfers made from Manafort's bank accounts in Cyprus to a variety of companies in the U.S. The sums that Manafort transferred suggest the possibility that some of the money was
diverted for other purposes
. Mueller stopped short of filing charges related to where the money went. But by including the details in his indictment, he left open the possibility of bringing charges in a follow-up indictment and perhaps left breadcrumbs for state authorities to pursue.
The president can pardon people convicted of federal crimes; only governors can pardon those convicted under state law. For prosecutors in New York, "the Manafort case is like a legal Chia Pet," says Weinstein. "Just add water, and it grows." Manhattan District Attorney Cyrus Vance Jr. is investigating the circumstances surrounding unusual real estate loans to Manafort from a bank run by Steve Calk, who served as an adviser to the Trump campaign. New York Attorney General Eric Schneiderman is conducting his own Trump-related probe.
Trump's reaction to Flynn's plea raised fresh questions about whether the president had obstructed justice.
The day after Flynn appeared in court,
Trump tweeted
that he fired Flynn because he'd lied to the FBI, which some lawyers say provided a new piece of evidence of what the president knew and when he knew it. Legal experts say Mueller's ability to bring an obstruction case against Trump could hinge on whether the president was aware of Flynn's illegal activities when he fired FBI Director James Comey.
Prosecuting an obstruction case without an underlying crime is problematic. Critics could demand to know what crime Trump or his campaign officials committed to justify the charge. Many have already argued that collusion itself isn't a crime. And within days of the Flynn agreement, Trump's personal lawyer, John Dowd, began pushing back against the notion that a sitting president can even be charged with obstruction.
Mueller is also looking at conduct before the election, when Trump was a private citizen and not covered by the executive protections afforded by the Oval Office. If Mueller uncovers evidence that the campaign accepted Russian help, that opens up the possibility of charging people in the Trump campaign with conspiracy related to the solicitation of in-kind foreign donations. Mueller's team would be on stronger ground if it uncovered evidence of any quid pro quo deals struck during the campaign, either in changes to the GOP platform favoring Russia or promises made to entice Moscow's help against Hillary Clinton.
Flynn alone may not be enough to advance an obstruction or collusion case.
Prosecutors would likely need evidence against other high-ranking Trump associates, including perhaps Jared Kushner. "Unless you've got them on tape, you're going to need a lot better witnesses than Flynn,"
says Raymond Banoun, a former federal prosecutor.
Some experts believe that Mueller's probe is now almost certain to reach a step beyond that.
"Before this is wrapped up, Mueller's going to request an interview with the president, and he may even request it under oath,"
says Amy Sabrin, a Washington lawyer who worked for Bill Clinton on the Paula Jones sexual harassment case. "And then what is Trump going to do?"