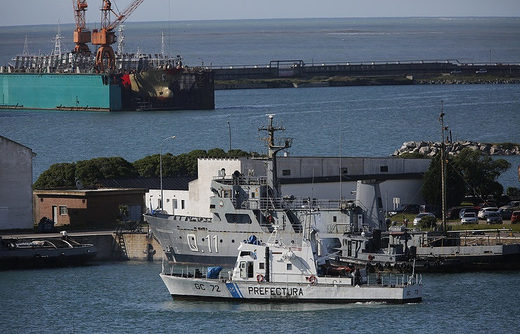 Russian military sailors have suspended combing the seabed in the area of the search for the sunken Argentine submarine San Juan due to bad weather, Russia's Defense Ministry reported on Tuesday.
"The Russian military sailors taking part in the search for the missing submarine San Juan have suspended the dives of remote controlled submersibles due to the deterioration of weather conditions in the search area," the ministry said in a statement.
"At present, the sea disturbance is three-four points, which prevents the dives of the unmanned submersible vehicle Pantera Plus from aboard the Argentine Navy's sea tug Islas Malvinas," the statement says.
Over the time of their participation in the search effort off the Argentine coast, specialists of the Russian Navy's rescue detachment have made six submersions to depths of 125-970 meters to survey the detected anomalies of the seabed. The descent capsule Pantera Plus helped detect and categorize a fishing trawler and a concrete massif.
"The survey of the bottom of the seabed with the help of remote controlled submersibles in service with the Russian Navy will continue as soon as weather conditions in the search area improve," Russia's Defense Ministry said.
The command of the group of Russian specialists is working in the headquarters of the search operation set up at the Argentine main naval base in Puerto Belgrano. The headquarters is coordinating the personnel's operations aboard vessels engaged in the search effort and coordinating the operations of remote controlled submersibles.
The San Juan, a diesel-electric submarine with a 44-strong crew aboard, stopped responding to radio communications on November 15. The Argentine Navy said an intensive search for it began in the night of November 16. A search and rescue operation was launched on the following day. The Argentine Navy stopped the rescue operation on November 30. The relatives of sailors from the sunken submarine have urged Argentine President Mauricio Macri to re-consider the decision on stopping the rescue operation.