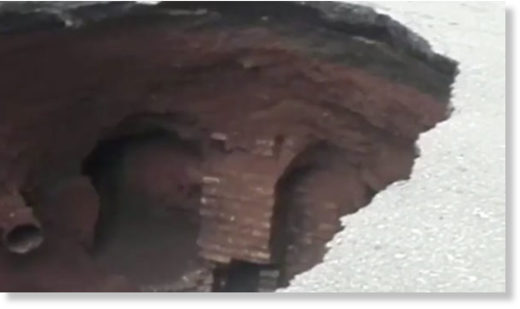 The huge crater, five metres deep and three metres in diameter, appeared on Wednesday morning in the Montagnola district.
Enzo Foschi was one of the first politicians to post a picture on social media, saying: "Luckily at that moment no one was crossing the street and no one got hurt.
"Rome collapses and mayor Raggi says everything is all right."
There was no immediate reports of injuries after the giant sinkhole opened up, according to local reports.
The causes of the crater have not been identified, but according to the first findings, the continuous drainage of the waters thinned the roadside.
Experts will today check the pipes to see if the problem is related to some damaged drainage channel.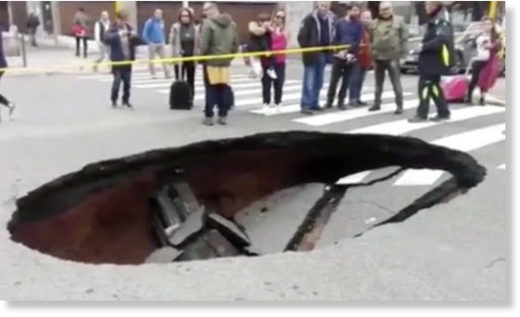 Carved up by two major fault lines, Italy has gained a reputation as one of the most earthquake prone countries in Europe.
The Eurasian and African plates meet along a line which runs through North Africa and crosses the Mediterranean near southern Italy and Greece.
As a result two main cracks - or fault lines - cut across the Italian peninsula, one running north-south along the spine of the Apennine mountains and another crossing east-west south of Rome and north of Naples.
Central Italy was hit by a devastating earhquake in August last year, which left 299 people dead.
Thousands were made homeless after the 6.4-magnitude quake struck on August 24.
As of August 30, the initial earthquake was followed by at least 2,500 aftershocks.
(
Additional reporting by Maria Ortega
)