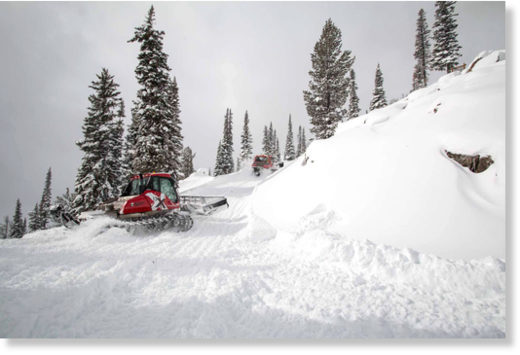 After historic early season snowfall, Jackson Hole Mountain Resort is pushing up its opening day.
On Friday, skiers and snowboarders will be able to access the Teton, Apres Vous and Teewinot lifts a day earlier than scheduled. The Bridger and Sweetwater gondolas, and Casper and Marmot lifts, are scheduled to open the following day.
Resort spokeswoman Anna Cole said the early push came to fruition because of the work of the resort's operations staff and cooperation from Mother Nature.
"The tools were all in place to open up," she said. "It's the conditions that allowed it to happen."
Weather station data available via the Bridger-Teton Avalanche Center reported 53 inches of snow in Rendezvous Bowl, 45 inches at the Raymer plot and 36 inches at midmountain.

Over 100 inches of snow

have fallen in the upper elevations, with a storm front moving in Monday night expected to drop up to 11 inches at the higher elevations.
Resort business development director Bill Lewkowitz said the amount of snow on the upper mountain is incredible.
"I did comparisons looking at other resorts, and no one has snow like us," he said. "For the most part in the U.S., we've been very, very lucky."
Cole said that in her tenure at the resort, which spans almost a decade,
this is the second-largest amount of terrain that is planned to be skiable on opening weekend.
The early opening announcement also came with news of the resort being ranked the No. 1 ski resort in North America by Forbes Magazine for the seventh year in a row.
In addition to the skiing during opening weekend, other resort offerings are also available. The Aerial Tram will be spinning for scenic rides from 10 a.m. to 2 p.m. Friday and Saturday; Cafe 6,311 and the General Store will be open Friday; and Casper Restaurant and Off-Piste will open Saturday. Hoback Sports, Teton Village Sports and Jackson Hole Sports plan to have holiday gear specials and rentals.
There is no date set for the tram to open for skiing, but Cole said to expect more terrain to open by next week. And while there may be record-breaking early season snow, early season conditions do exist, she said.