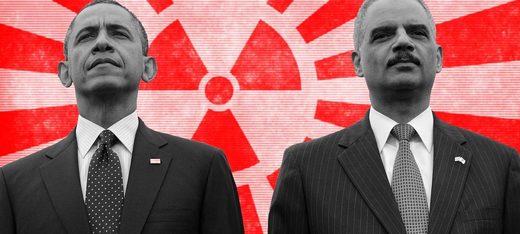 U.S. Special Counsel Robert Mueller's sweeping investigation into President Donald Trump's White House just expanded to President Barack Obama's White House, True Pundit has learned.
Mueller's probe has also expanded into the tenures of Eric Holder and Loretta Lynch in their official roles as U.S. attorney general during Obama's two terms in the White House.
Mueller's team - for the first time - has requested a number of DOJ records and emails related to Holder and Lynch, including additional records linked to Obama and Valerie Jarrett, who served as Obama's senior advisor and controversial consigliere, according to federal law enforcement sources.
The revelations could indicate Mueller is looking at Obama and his Justice Department's role in attempts to secure FISA warrants to spy on the Trump campaign in 2015 and 2016.
Or perhaps Mueller is delving into the Uranium One debacle, even though Mueller himself is implicated in the growing scandal.
A cynical investigator would hypothesize Mueller could be getting an early and discreet look at Uranium One records to gauge any evidence implicating his personal exposure. It would not be the first time Mueller bent a few laws. However, such a feat would be difficult to pull off in a such a team-oriented investigation setting.
Officials did not confirm why Mueller is specifically seeking the records. But we can read between the lines here, although there are many known and emerging Obama-linked scandals at play.
Mueller could also be probing Obama's tie in to Fusion GPS and how the research firm was involved in setting up a meeting with a disgraced Russian lawyer and three members of Trump's campaign, including his elder son Donald Jr. and recently-indicted Paul Manafort.
The Russian lawyer who set up Trump Jr. - Natalia Veselnitskaya - was paid by Fusion GPS. Fusion GPS was paid by Hillary Clinton and the DNC. Fusion GPS was also paid by Obama's FBI, either directly or in-kind via Steele's firm.
Oh yes, we forgot to include this: Veselnitskaya and Fusion GPS worked together on another caper in 2014, two years before the Trump Jr. operation. In Russia.
As noted, there are many areas of known and unknown corruption during Obama's reign. With Obama's White House now in play, Mueller could be playing a legal game of pin the tail on the scandal. With Holder involved, Mueller could be seeking records on one or more of many scandals and Lynch isn't far behind either.
A Justice Department official said Clinton likely never expected her campaign's role and finances to be uncovered and broke a host of federal laws while trying to get elected in 2016, including bringing Veselnitskaya - who was previously barred from entering the United Stated - into Manhattan for the Trump sit down.
That places the Barack Obama administration directly into this illegal soup.
Using research firm Fusion GPS as a buffer, Clinton and associates are now linked to financing a scheme to set up the controversial Trump Jr. meeting at Trump Tower before the 2016 presidential election.
Fusion GPS is already on the legal hot seat for commissioning the Dodgy Dossier on Trump, hiring former British spy Christopher Steele to compile the bogus manifesto with the financial backing of the DNC and Hillary Clinton campaign, as well as the FBI.
But these new revelations - that Fusion GPS played a key role in setting up President Trump's elder son to make it look like he was colluding with the Russians to beat Hillary - pushes this scandal into a new and more troubling orbit.
Soon after the meeting, Clinton and her campaign flunkies began slamming Trump for his links to Russia and Vladimir Putin, a chorus that continues to this day.
But it appears now this loud chorus was a manufactured arrangement of lies from a paid choir.
Especially since this scheme was backed by Hillary-Clinton dollars which implicates Clinton and her campaign in helping orchestrate the Russian sit down to entrap members of the Trump family.
Perhaps even more alarming, it is now alleged Barack Obama's Justice Department and FBI helped sneak the Russian lawyer into the United States for the Trump Tower meeting, the insider said. She was previously banned from entering the country (more on that below).
If you are paying attention, this scandal is shaping up into a serious and disturbing criminal plot.
The Democrats and Clinton herself lambasted Trump Jr. for meeting with Russian lawyer The Democrats alleged Trump Jr. was working a backroom and illegal deal at the behest of his father. The meeting has been part of U.S. Special Counsel Robert Mueller's criminal investigation and Trump Jr. has testified at the Senate level to explain the meeting. Trump Jr., corroborated by evidence since the investigation began, met with the Russian delegation for anything but illegal reasons.
No collusion, as the Democrats have cried out for, has been proven on Trump Jr.'s part or that of his father. Nor does it appear it ever will be.
Fusion GPS has been fighting Congress in federal court to keep its banking records private, battling a federal subpoena to turn over the details of money coming in and flowing out of the Virginia-based research firm.
Following the Trump Tower sit down with Russian lawyer Natalia Veselnitskaya, investigators began digitally wiretapping Paul Manafort, Trump Jr., and Jared Kushner who were also at the meeting.
Federal agents previously disclosed to True Pundit that after the concocted Russian meeting, the British spy agency GCHQ could officially justify wiretapping Trump associates as an intelligence front for NSA because Russian lawyer Veselnitskaya was considered an international security risk and prior to the June sit down was not even allowed entry into the United States or the UK, federal sources said.
Veselnitskaya may have been paid as well by the U.S. government, FBI sources said. It was reported previously by True Pundit that Steele, who compiled the Trump dossier was paid at least $100,000 from FBI funds as well. But that came later, after the wiretapping was well underway.
The illegal eavesdropping started long before Steele's dossier. Federal sources said the wiretaps on Trump insiders began in late 2015, almost a year before the 2016 election. The targets then were Flynn and Page, sources confirmed. When no smoking gun was recovered from those initial taps, U.S. intelligence agencies moved to broaden the scope through their newly-formed alliance.
Intelligence garnered from the British eavesdropping, which again was merely a front for the NSA, was then used in August 2016 to secure a legitimate FISA warrant on Manafort, Trump Jr. and Kushner. That warrant was issued on or about September, 2016, federal sources confirm.
It was the third time the cabal of U.S. intelligence agencies sought a FISA warrant for the Trump associates and this time it was approved.
FBI sources said finally obtaining the FISA warrant was important because it provided the agencies cover for previous illegal wiretapping which they believed would never be discovered.