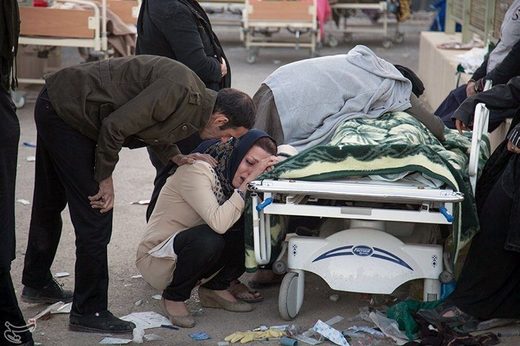 A 5.8-magnitude earthquake struck off the coast of Japan, hours after a devastating quake in Iran left 320 dead.
The tremor rumbled south-east of the city of Kamaish, on the country's Pacific coast, according to the US Geological Survey.
The quake happened six miles beneath the Earth's surface at around 10.24pm, with the epicentre recorded 180 miles off the coast of Japan, scientists have said.
It is unclear whether the quake has caused any impact on land.
It came just hours after the huge 7.3 magnitude earthquake near the Iran/Iraq border, with the death toll currently at 320 and almost 2,000 others reportedly injured. Iran quake of 7.3 magnitude kills more than 130
It was felt as far away as Turkey, Kuwait and the United Arab Emirates.
The worst of the damage appeared to be in Iran's western Kermanshah province, which sits in the Zagros Mountains that divide Iran and Iraq.
Residents in the rural area rely mainly on farming to make a living. Iranian social media and news agencies showed images and videos of people fleeing their homes into the night.
Some 50 aftershocks followed.
Magnitude 7 earthquakes on their own are capable of widespread, heavy damage.
Meanwhile Costa Rica was also rocked by a strong 6.5 magnitude quake which knocked out power lines and has threatened a risk of rockslide.
People were said to have been seen rushing outside in panic overnight as items were knocked from shelves in the disturbance.
According to the country's Public Safety Ministry, there were so far reports of two serious injuries as a result of the earthquake there.
New Zealand - where earthquakes along the Indo-australian and Pacific tectonic plates occur regularly - was also hit by a quake over the weekend.
It shook the country just hours before it is due to mark the year anniversary of a devastating 7.8 tremor that struck the seaside town of Kaikoura. The 4.8 magnitute earthquake hit in Wellington on Sunday morning, with more than 11,000 people reporting they had felt it.
Many described it as an unfortunate reminder of the Kaikoura disaster.