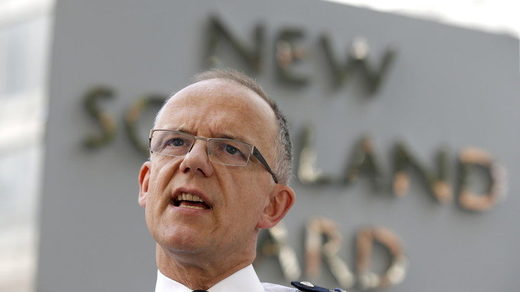 The UK's top counterterrorism police officer says the mainstream media are helping spread Islamic State propaganda. Mark Rowley will discuss the balance of public interest in reporting on terrorist organizations today in Cambridge.
Rowley is expected to tell the conference that up to 50 percent of Islamic State (IS, formerly ISIS) propaganda can be found published on media websites or in newspapers,
and is only available to a very small audience on encrypted channels before it spreads through news reporting.

Comment: Did you get that? If over the past few years you've been terrified, out of all proportion, by the idea that 'ISIS' jihadis are coming to get you, then it's not surprising given that the Western press has gone out of its way to make sure you are terrified.

Much of 'ISIS' propaganda would normally languish on websites in the farthest reaches of the internet, but Rita Katz (the daughter of an Israeli Mossad agent) and her 'SITE' intelligence group, dedicates herself to digging up ISIS trash on the web and shoving it in your face via the mainstream media. Aren't you grateful that Katz is spending her time promoting a jihadi agenda and scaring the pants off you in the process?


The debate will look at the balance between the public interest of reporting terrorist attacks and police concerns.
Rowley will join a the Manchester Evening News' Rob Irvine,
Guardian
columnist Simon Jenkins, the BBC'S James Stephenson, and Sarah Whitehead of Sky News in a panel discussion entitled '
Reporting Terror - are we doing the terrorists' job for them?
' at the Society of Editors conference in Cambridge to debate the media's role in taking on Islamic State.
A source told the
Times
that Rowley wants to "start a conversation" about how the mainstream media reported Islamist terrorism.
Metropolitan Police Commissioner Cressida Dick will also attend the conference to discuss how the media reported on the five terrorist attacks that have taken place in the UK so far this year.
Mark Rowley has previously hit out at the media, giving a reporter a dressing-down in May after a "nonsense" question from a journalist after the Westminster attacks when asked why Met Police Acting Commissioner Craig Mackey left the scene instead of helping murdered PC Keith Palmer during the Westminster terror attack.
"It's frustrating when we're wrestling with an issue like this and the Acting Commissioner's doing an excellent job that we get nonsense from armchair critics,"
he said.