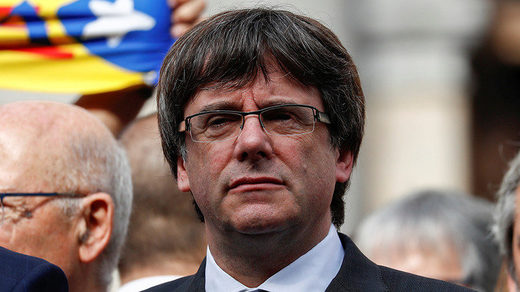 Deposed Catalan President Carles Puigdemont has turned himself in to Belgian police
, public broadcaster VRT reports, citing a source. Puigdemont and Catalan ministers fled to Belgium after Madrid's central government imposed direct rule over the autonomous region.
Four former Catalan ministers who arrived with Puigdemont in Brussels also turned themselves in to police
, VRT
reports
.
Puigdemont appeared in Brussels alongside other members of his cabinet on Monday. That same day, the Spanish Prosecutor's Office announced that it had filed a lawsuit against him, other members of his cabinet, and some regional MPs on rebellion, sedition, and embezzlement charges with the Spanish National Court.
The ousted leader spoke to press in Brussels. When asked whether he will be seeking political asylum in Belgium, Puigdemont said that he did not go to Brussels for that reason.
On Friday, a Spanish judge issued a European arrest warrant for Puigdemont, whose request to testify by videoconference was rejected. Later that day, Belgium's prosecutors confirmed they received the arrest warrant for Puigdemont and promised to study it.
Catalonia's referendum on October 1 saw the region overwhelmingly (over 90 percent) voting to break away from Spain. Fewer than 50 percent of those eligible to vote took part, with pro-independence activists blaming Madrid's crackdown, including the blocking of polling stations and confiscation of votes, for the turnout.
The Catalan parliament declared independence from Spain following a vote on October 27, almost a month after the referendum. The vote was boycotted by MPs supporting union with Spain.
In response, the Spanish Senate triggered Article 155, stripping the Catalan government of power. Prime Minister Mariano Rajoy set snap elections in the region for December 21.