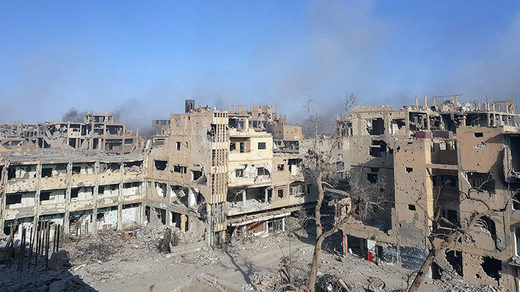 Dozens of refugees were killed and scores injured by a car bomb in the suburbs of the city of Deir ez-Zor on Saturday, Syria's SANA state news agency reported. Women and children appear to be among the victims.
The bombing targeted the largest refugee gathering in the region, Sana
reported
. The blast occurred in the outskirts of the city, in the area near Conoco and al-Jafra gas fields.
The agency said that "large numbers of children and women" fell victim to the explosion, citing its own correspondent at the scene.
The assailant reportedly rammed the car, rigged with explosives, into the crowd before it blew up.
Damascus-based journalist Mohammed Ali told RT, citing sources on the ground, that the attacker is believed to be an IS militant. Driving a booby-trapped car, he targeted a camp for displaced civilians fleeing the eastern countryside of the province of Deir ez-Zor.
The official death toll has not been announced, but some reports have put the number as at least 100,
Ali said. He noted that last month the same area was also targeted in a similar attack by an IS suicide car bomber, resulting in civilian casualties.
The attack took place in an area considered to be largely under the control of the US-backed Syrian rebels from the Syrian Democratic Forces (SDF).
It was reported that the SDF captured the Conoco gas field plant, located to the northeast of Deir ez-Zor, in late September following clashes with Islamic State (IS, formerly ISIS, ISIL), which had been holding the oil-rich area since 2014.
The Jafra oil field, located to the north of the city, fell into the rebels' hands at roughly the same time, as they were pushing against IS. The profits from the seized oil fields in Syria and Iraq were once a main income source for IS to fund their operations.
The attack on civilians comes just a day after the Syrian army announced that it had succeeded in fully liberating Deir ez-Zor from jihadists, killing large numbers of ISIS fighters, destroying their equipment and taking hold of weapon caches abandoned by terrorists as they fled.
The Syrian troops have been wiping out the last pockets of resistance in the city after breaking a three-year ISIS siege in September, backed by the Russian Air Force.
Neither the SDF, nor the Syrian government are yet able to ensure security in the area, which has been liberated from ISIS, investigative journalist Rich Sterling told RT.
The situation is aggravated by the fact that, with IS in retreat and the capture of Raqqa by the US-backed SDF, the tensions will be building up between them.
"You've got a lot of international players in there and we will have to see whether they have got good intentions in the future. Right now, it is a complex situation," Sterling said.