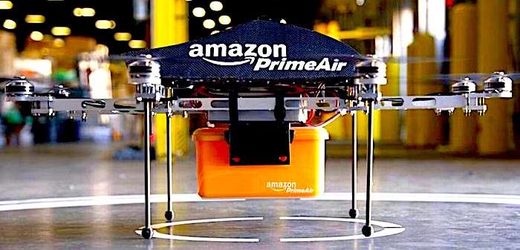 Donald Trump once predicted that Jeff Bezos and his Amazon empire would have "such problems" if he became president, but on Wednesday Trump gave the company a game-changing gift by opening up the skies to a drone pilot program for services like package delivery.
Trump signed a memorandum that allows states, municipalities and tribal groups to test drones for a sweeping array of activities such as disaster response, mapping, agriculture - and delivery of goods.
Until now, the Federal Aviation Administration restricted drones from flying over people, operating at night or buzzing beyond the visual line-of-sight of the ground-based pilot.
"America's skies are changing," said Michael Kratsios, deputy assistant to the president in the White House Office of Science and Technology Policy. "Our aviation regulatory framework has not kept pace with this change."
More than 1 million drone owners have registered with the FAA, Kratsios said, and commercial drone numbers are expected to soar fivefold by 2021.
The action may open the door to revolutionary, and disruptive, drone usage in new areas of the economy. And it is Amazon, the world's biggest retailer, that is among those that may benefit the most - despite Trump's yearsold antipathy toward the company and Bezos.
During the early part of the campaign leading up to November 2016 elections, Trump regularly bashed Bezos and Amazon for what he alleged was tax dodging. "If @amazon ever had to pay fair taxes, its stock would crash and it would crumble like a paper bag," Trump tweeted on Dec. 7, 2015.
During a campaign event in Texas on Feb. 26, 2016, Trump declared of Amazon: "If I ever become president, oh do they have problems. They're going to have such problems."
In ensuing months, Trump accused Amazon of "getting away with murder" on taxes, but the subject of his anger also shifted, focusing more on Bezos and his purchase in 2013 of the
Washington Post
. During the campaign, Trump's team revoked the press access of "phony and dishonest"
Post
reporters.
The two tycoons entered an uneasy truce after Trump's triumph. Bezos offered congratulations and tweeted that he would "give him my most open mind and wish him great success in his service to the country."
Bezos has taken part in the American Technology Council, set up by the White House,
and met there with Trump as recently as June 19.
But aggressive
Post
reporting on an FBI investigation into inroads by Russia into the Trump campaign led Trump to lash out on Twitter in July, referring to the "Amazon
Washington Post
." "Is Fake News
Washington Post
being used as a lobbyist weapon against Congress to keep Politicians from looking into Amazon no-tax monopoly?" Trump tweeted on July 24.
Like other companies, Amazon has some hurdles to clear before it conducts more expansive testing of package delivery in the United States. Regulatory impediments in the past led Amazon to conduct testing in the United Kingdom, just as Google's parent Alphabet moved to test its Project Wing in Australia, where in recent weeks it began making deliveries to people's backyards.
Amazon sought FAA approval to conduct drone delivery testing in the United States in 2014, but the FAA didn't grant permission for nearly a year. That prompted the company to turn to Britain, where on Dec. 7 Amazon announced that its
Prime Air service successfully delivered a package
by autonomous drone to a client in the Cambridge, England, area within 13 minutes of click purchase.
Amazon deliveries are now faster, and airborne
Jeremy Clarkson of Top Gear introduces
a new delivery system from Amazon that is designed to safely get packages to customers in 30 minutes or less using unmanned aerial vehicles (drones).
Prime Air has the potential to enhance Amazon the services by providing rapid parcel delivery that will also increase the overall safety and efficiency of the transportation system.
A
promotional video
says Amazon drones would fly "quietly below 400 feet, carrying packages up to 5 pounds and guided by GPS."
For that and subsequent deliveries, Amazon used a traditional quadcopter drone. But the Seattle company is testing other types at an Amazon Drone Development facility in Graz, Austria.
"Like smart animals, the drones must know when they are getting into trouble, and avoid colliding with things, without a human intervening. They must be independently safe," Paul Misener, an Amazon vice president for global innovation policy, wrote in
a blog post
.
In a statement sent to McClatchy after the White House announcement, Amazon Prime Air Vice President Gur Kimchi said the move would help keep "America at the forefront of aviation and drone innovation. At Amazon Prime Air, we're focused on getting packages to customers in 30 minutes or less using the latest drone technology, and we look forward to working with the administration, states and municipalities to make this a reality," Kimchi said.
For its part,
Google's parent said last week
that it had partnered with two Australian merchants - a Mexican food chain and a drugstore chain - for drone deliveries.
"We'll dispatch our drones to pick up the order from our partners' loading sites and then transport and deliver the goods to testers at their residences," James Ryan Burgess, co-leader of Project Wing, said in an Oct. 16
blog post
. The testing takes place in a rural area in the Australian Capital Territory, which surrounds Canberra, and is "a 40-minute round trip in the car for almost anything," he wrote.
Technical challenges remain, Burgess said, noting that cars can be parked in unexpected places or outdoor furniture moved, and further testing of sensors is need for algorithms to ensure a safe spot for delivery. "This is more complicated than it looks. We have to incorporate customer preferences - e.g. many of our testers would like packages delivered to backyards so they're not visible from the road, or near kitchens so food items can be unpacked quickly.
A senior administration official said the Department of Transportation and the FAA will move quickly once proposals arrive from cities and states that want to test drone usage. "There may be a town in America who wants to test a package delivery option," the official said, speaking on condition of anonymity, and "they can go out and find an industry partner who would be willing to come and join with them in this hypothetical plan."
He said it was far more likely that such a plan would be tested in less densely populated areas, not New York City, as the administration looks toward creating national rules on drones.