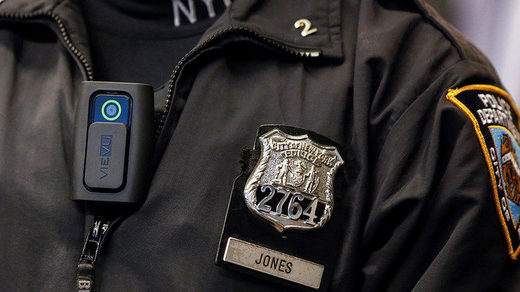 The adoption of body cameras by Metropolitan Police Department officers in Washington, DC had no discernible effect on reducing citizen complaints or use of force by the officers, according to the latest study by the MPD.
"We found essentially that we could not detect any statistically significant effect of the body-worn cameras," says
Anita Ravishankar
, a researcher with the Metropolitan Police Department and member of a
policy research group
working for the city government Lab @ DC.
The study ran for a year and half, from June 2015 through December 2016, and had a control group and a treatment group of over 1,000 officers each. Researchers looked at police use of force based on officers' self-reported incidents, civilian complaints, policing activity and judicial outcomes.
"Across each of the four outcome categories, our analysis consistently point to a null result," the report said. "We are unable to reject the null hypotheses that the BWCs [body-worn cameras] have no effect on police use... because our study has a large enough sample size to detect small effect sizes."
The use of force per 1,000 officers remained at 50 for a 90-day period before and after the deployment of body cameras.
The complaints from citizens per 1,000 officers likewise held steady at 25 for a 90-day period before and after body cameras were rolled out.
Among the findings were that some officers assigned cameras would not install or use them, while some officers not assigned cameras might have obtained them.
"On average, treatment officers uploaded about 665 videos annually compared with 14 videos uploaded among the control officers. The average video length was 11 minutes by the treatment officer, whereas by the control officer is was just 0.8 minutes long," said the report.
The Metropolitan Police Department is one of the largest forces in the US, with some 2,600 officers wearing cameras on their collars or shirts.
"I think we're surprised by the result. I think a lot of people were suggesting that the body-worn cameras would change behavior," Police Chief Peter Newsham told
NPR.
"There is no indication that the cameras changed behavior at all."
Newsham ventured that was because his officers "were doing the right thing in the first place."
Friends and relatives of Terrence Sterling would disagree. The African-American motorist was shot to death on September 11, 2016 when he was pulled over for driving erratically. Officer Brian Trainer turned on his body camera only after he fatally shot Sterling, in what he said was self-defense. Graphic footage that was eventually released showed Trainer and his partner giving aid to Sterling, who was bleeding out on the street. Neither officer was charged over the incident, though the MPD asked Trainer to resign.
In the wake of high-profile shootings, police departments across the US have been rapidly adopting body-worn cameras, despite a lack of research on how the technology can change policing.
In 2015, the US Justice Department awarded over $23 million in funding to support the implementation of body cam programs, with 95 percent of larger police departments either implementing or intending to adopt the technology.