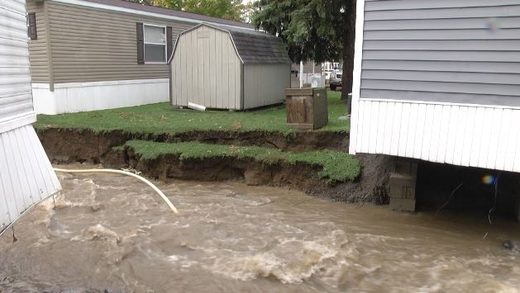 A large sinkhole opened up in a Watertown mobile home community Monday afternoon during the heavy rain.
Around a half-dozen homes were damaged at Evergreen Park off LeRay Street.
Nearby Kelsey Creek overflowed, pushing water into the park, resulting in a sinkhole.
"This is the third time that this sink hole, the ground went in and this is the third time that this lady, she's had to go through this," said Beverly Dalton, who lives in the park.
It's estimated the hole is at least 50 feet long and has caused some of the homes to tilt and sink.
There are no reports of any injuries.
"A little scary, you know you can't get out and the possibility of your house being flooded out, but I'm thankful to God that we're safe anyway," said Dalton.
The city's Department of Public Works, National Grid, and an excavation crew are on the scene.
Part of LeRay Street is closed to traffic due to the flooding.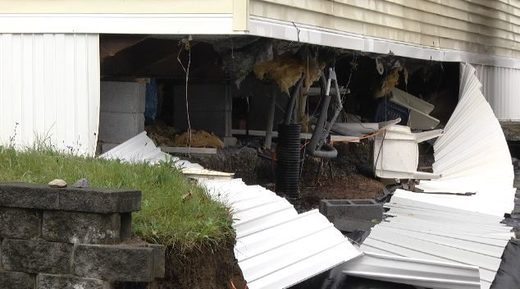 On nearby Alexandria Avenue near Kelsey Creek,
the roadway was underwater. With water up to four feet in at least one basement, residents just trying to stay on the defensive and pump out..
"Hopefully, people don't have anything worth value down in their cellar otherwise they probably lost it," said Tim Orum, who lives in neighborhood.
By late Monday afternoon, water had started to go down in some spots leaving people to assess the damage caused by the flooding.