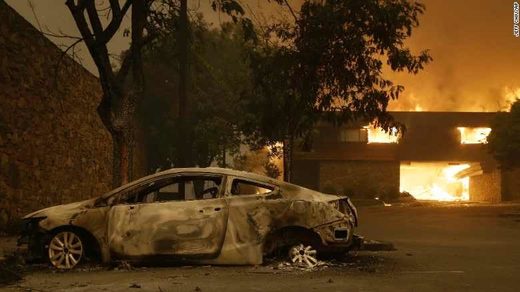 At least 1,500 homes, businesses and other structures have been destroyed as more than 14 fires ravaged eight counties throughout Northern California late Sunday and Monday morning, authorities said.
Gov. Jerry Brown declared a state of emergency as multiple fires forced thousands of evacuations across wine country as they burned tens of thousands of acres.
No deaths have been reported, but there have been injuries and people are unaccounted for, said Janet Upton, a spokeswoman for the California Department of Forestry and Fire Protection. She could not estimate the number of injuries.
The declaration authorizes the mobilization of the California National Guard.
One of the raging fires had Santa Rosa under siege Monday morning, with a large swath of the city north of downtown under evacuation order.
The fast-moving fire jumped the 101 Freeway, forcing hospitals to be evacuated and, witnesses said, burning homes and businesses.
The Tubbs fire near Santa Rosa has burned more than 35,000 acres as of 6:40 a.m., Napa County Supervisor Diane Dillon said during a televised press conference Monday morning. Officials said the other large fire in Napa County - Atlas Peak - has reached between 8,000 and 12,000 acres.
Schools throughout the Napa and Sonoma valleys are closed for the day, and cellphone service has been affected in Napa County, where residents and businesses are experiencing power outages and trees have been knocked down by the wind, officials said.
More than 50 structures, including homes and barns, have burned in the Atlas Peak fire alone, Napa County Fire Chief Barry Biermann said during the press conference.
"The fire has burned all the way through the Silverado Country Club," he said.
Residents described running from the approaching flames early in the morning.
"People are running red lights, there is chaos ensuing," Santa Rosa resident Ron Dodds
told KTVU.
"It's a scary time. It looks like Armageddon."
The area of Fountaingrove appeared to be particularly hard hit, with photos showing numerous homes on fire. Officials said homes were also lost in the community of Kenwood and at a mobile home park off the 101 Freeway.
While many evacuation centers were set up, some were filled to capacity due to the large number of people fleeing.
Smoke from the fires drifted into the Bay Area, into San Francisco and as far south as San Jose.
No deaths have been reported yet in Napa County, though people are being treated at hospitals for injuries, she said. There are no estimates of how many may be injured.
Cal Fire is keeping track of three other fires in Napa, Sonoma and Lake counties, said spokesman Will Powers. The Adobe fire in Sonoma County is affecting Glen Ellen and Kenwood; the Partrick fire is hitting Napa, and the Sulphur Fire in Lake County is threatening Clearlake and has burned about 1,800 acres, including structures.
Taking all the fires into account, more than 1,000 people have been evacuated, he said.
"The smell of smoke is everywhere throughout the county," Napa County spokeswoman Kristi Jourdan said.
In Santa Rosa, Kaiser Permanente Hospital and Sutter Hospital were evacuated.
"We have safely evacuated the Santa Rosa medical center due to fires burning in the area. Many patients were transported to Kaiser Permanente in San Rafael and other local hospitals," Kaiser spokeswoman Jenny Mack said in an email. "All scheduled appointments and surgeries have been canceled for the day in Santa Rosa and the Napa medical offices."
Structures have burned, though there is no estimate of how far the fires have spread and how many structures have burned, said Napa County spokeswoman Molly Rattigan.
The fires began around 10 p.m., she said.
"It was an inferno like you've never seen before," Marian Williams, who escaped in a caravan with neighbors through flames before dawn near the town of Kenwood, told the Associated Press. "Trees were on fire like torches," she said.
The cause of the fires are still under investigation.
"It's been incredibly windy here," Rattigan said. Winds are consistently "around 15 miles per hour and we have gusts up to 22 miles per hour, and we're expecting that to continue throughout the day."
Upward of 300 firefighters are battling the blazes in Napa County, she said. There are three evacuation centers for Napa County residents, though one - the Crosswalk Community Church - is full, she said. The other two are the Calistoga Fairgrounds and at Napa Valley College.
Residents can text their ZIP Code to 888777 to receive Nixle alerts about the fires and evacuation centers, she said.
"When I started loading stuff into the car it was a hell-storm of smoke and ash. There were 30- to 40-mph winds. I couldn't even breathe," Napa Valley visitor Chris Thomas told the San Francisco Chronicle. "It went from being an annoying evacuation to something really scary."