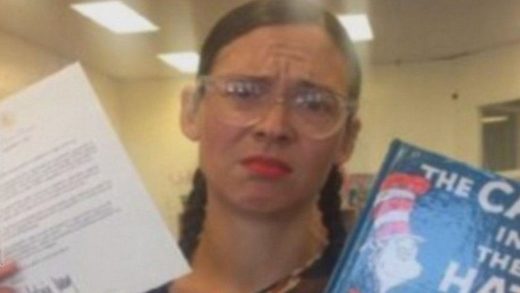 A Massachusetts librarian is facing backlash for rejecting a book donation from the first lady.
Melania Trump
gave 50 schools in 50 states a packet of Dr.
Seuss
books with well wishes in the new school year.
Librarian Liz Soeiro of Cambridgeport Elementary School, however,
said thanks but no thanks
.
In a letter to the first lady on
The Horn Book
website, Soeiro explained that the school doesn't need the books.
"Dr. Seuss' illustrations are steeped in racist propaganda, caricatures and harmful stereotypes,"
she wrote.
Cambridge Public Schools says the librarian's editorial letter represented her opinions and was not an official statement on behalf of the school district.
The district says it has "counseled" Soeiro on its policies. It says her letter "was not a formal acceptance or rejection of donated books."
But some have taken issue with Soeiro's remarks, including one of the legendary author's surviving relatives.
"Of all the people to pick, Dr. Seuss would not be the one I would go after with something like that," Ted Owens, the great-nephew of Dr. Seuss, told Inside Edition. "To say that a book like
The Cat in the Hat
is racist or that any of the Dr. Seuss books are racist is absurd. His books are about bringing people together. They are about that we are in this together. They are about the strength of the individual."
The first lady's office also fired back in a statement of its own.
"To turn the gesture of sending young students some books into something divisive is unfortunate, but the first lady remains committed to her efforts on behalf of children everywhere," her office said.
Even Springfield's mayor issued a rebuke of the librarian.
"'One fish - two fish - red fish - blue fish' - I think her comments 'stink' and are ridiculous towards our beloved Dr. Seuss," Mayor Domenic Sarno said in a statement. "Her comments that this is 'racist propaganda' and that 'Dr. Seuss is a bit of a cliche and a tired and worn ambassador for children's literature' is 'political correctness' at its worst."
Meanwhile,
Will & Grace
returned to television after 11 years on NBC Thursday night. But the show drew ire from some viewers, who claimed the characters took a few too many potshots at
President Trump
and the first lady.
The first family was the subject of 18 jokes during the show, which many felt were too much.
"Trump bashing wayyyyyy too much. Changing channels. Disappointed," was one tweet.
Others found the episode hilarious, like
Vanity Fair
, which called the sitcom a "surprisingly welcome wistful return."
Update:Librarian who rejected Melania Trump's Dr. Seuss books dressed as 'Cat in the Hat'
Fox News
Horton hears a hypocrite.
The Massachusetts elementary school librarian who rejected Dr. Seuss books donated by First Lady Melania Trump because the publication's artwork contained "racist mockery," was previously photographed dressed as the Cat in the Hat and holding a
Green Eggs and Ham
themed breakfast.
Liz Phipps Soeiro was busted Friday by Twitter users after she snubbed the First Lady's donation to the Cambridgeport Elementary School. Soeiro wrote in a letter to Trump that the school could not accept the books, which included: The Cat in the Hat, Oh, the Places You'll Go! and
Green Eggs and Ham.
Yet Soeiro was seen in a March 2015 photo from the school's Twitter account holding a Cat in the Hat doll in one hand, a Green Eggs and Ham book in the other and Dr. Seuss-style stockings and hat -- and smiling while doing so.
But Soeiro said the school would "not be keeping the titles" for its collection because the institution "does not have a "NEED" for the books.
It was unclear if the school actually rejected the titles.
"I work in a district that has plenty of resources, which contributes directly to 'excellence,'" Soeiro wrote. "My students have access to a school library with over nine thousand volumes and a librarian with a graduate degree in library science."
Soeiro also said the books by Dr. Seuss contained illustrations "steeped in racist propaganda."
"Another fact that many people are unaware of is that Dr. Seuss's illustrations are steeped in racist propaganda, caricatures, and harmful stereotypes," Soeiro wrote, giving examples of
If I Ran a Zoo
and
And to Think That I Saw It on Mulberry Street
as clear "racist mockery" in Seuss' art.