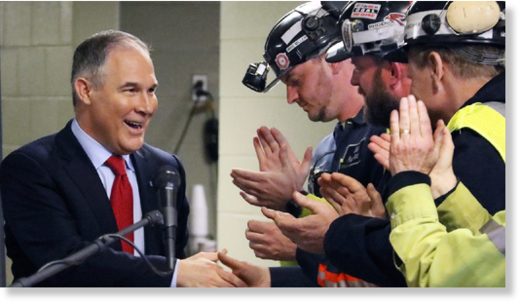 Reporters and special interests groups critical of President Trump's Environmental Protection Agency have filed Freedom of Information Act requests at a record-breaking pace, a rate of over 60 a day.
Through last week, 10,970 have been filed,
many so broadly worded that it will take years to answer.
What's more, there are still several weeks left in the fiscal year for more to come in. The most ever filed for a full year has been 11,820 in fiscal year 2007.
Critics have assailed some actions by Trump's EPA and Administrator Scott Pruitt and many FOIA's seek emails on their decisions.
But some are poorly focused and broad. Several seek all emails that include "climate change" in them, a list in the millions and will be costly in money and hours to retrieve.
There's one from
New York Times
reporter Eric Lipton seeking emails that include his name. A story about the EPA he and another reporter wrote was hit by the agency's press office, which in a release said, "After a monumental mistake where the
New York Times
was caught peddling false information, they're at it again."
In another, the Associated Press wants emails between Breitbart reporter Matthew Boyle and agency officials, asked the fee for reproducing them be waived because "the documents are requested in the public interest."
Secrets had wrongly said the AP sought the documents for free. The AP offered to pay up to $200. The AP also said that EPA is prohibited from charging to search for or review records that we have requested under FOIA, or charging for duplication fees for up to the first 100 pages of files it provides.
The agency has done a good job to close the requests, but there are still 2,108 left open in the current fiscal year, some 500 left over from the Obama administration.
Total FOIA requests to EPA received:
FY 17 (through 9/12/17) 10,970
FY16 10,403
FY15 10,910
FY14 10,470
FY13 9,951
FY12 9,869
FY11 10,123
FY10 10,409
FY09 10,317
FY08 11,492
FY07 11,820