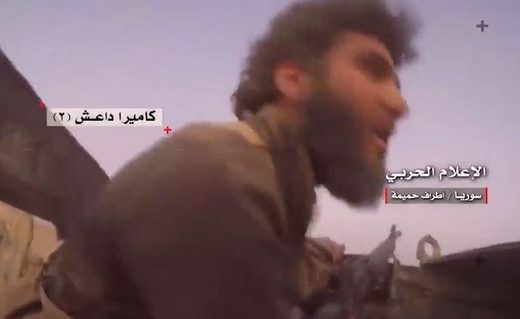 Terrorists are filmed in blind panic as they are hunted down in the desert as their so-called caliphate crumbles into sand
THIS is the moment a group of ISIS jihadis are blown to smithereens after being hunted down by a Syrian government tank. Footage filmed on a head-cam inside an armoured car shows the moment the death cult troops spot a tank.
One of the jihadis can be heard screaming: "Tank on the right side. The tank..the tank..the tank is over there, over there, over there." The machine can't be seen in the clip but a bright flash is visible which could suggest that its barrel is firing rounds.
The jihadi can then be heard crying out: "Anti-tanks oh anti-tanks..follow us." Another asks where the tank is. And the jihadi replies: "Over there, the tank will bomb us." The armoured car then tries to out-drive the tank before stopping. Someone can be heard saying: "No-one gets off...stop...stop." Then there are pleas for the anti-tank units to protect them.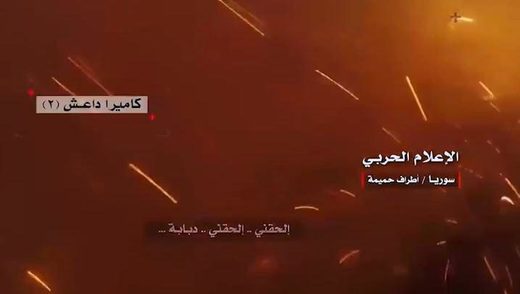 The jihadi with the head-cam then jumps off the vehicle before hopping back on. A fighter can then be seen manning the gun on top, desperately firing flac at the tank. A jihadi can then be heard yelling: "Anti-tank ...he who hears me respond, anti-tanks ...do you hear me? Follow me...follow me...a tank." Then there is a bright flash and a huge explosion. This is followed by groaning and then the sounds of rounds going off in the fire.
The exact location or time is unclear but the footage has only just surfaced. It comes amid reports
ISIS has been almost entirely ousted from its Syrian terror capital Raqqa and the city could fall
within days, according to local ground forces.
The Syrian city was a symbol of ISIS prestige during the group's heyday, and it was from Raqqa it planned deadly attacks on Europe and launched its bloodthirsty drive across Iraq and Syria.