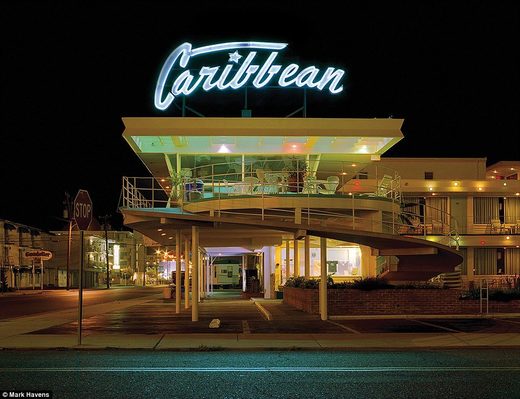 Retro motels that arose in the 1950s and 1960s are seeing a resurgence in American tourists longing for a simpler vacation.
Doo Wop motels born in the era have come back into style in the past few years.
Through a rare combination of economics, geography and chance, the island of Wildwood in New Jersey contains a national treasure: the highest combination of mid-century modern hospitality architecture.
These hotels embrace a retro style of looping neon signs, plastic palm trees, cheap mini-golf courses and simple living spaces.
Industrial design professor, Mark Havens, spent 10 years capturing the tourist destination before most of them disappeared for his book
Out of Season: The Vanishing Architecture of the Wildwoods
, which was published by
Booth-Clibborn Editions
.
And though many of the hotels have since been demolished, the kitschy architecture and unadorned accommodations remind vacationers of a more simple by-gone era.
The motels were also nicknamed, 'Doo-Wop' motels, after the funky-fresh genre of music, Doo-Wop, which was developed in African-American communities in New York, Chicago and Los Angeles, among others.
Most of the motels generally include U-shaped or L-shaped designs of two or three stories, asymmetric elements, swimming pools, adjacent parking or second story sun decks over parking spaces, angular walls or windows, flat overhanging roofs, bright color and a contemporary or fantasy theme.
The Chateau Bleu Resort Motel was built in 1962 with a heart-shaped pool. The building is listed on the National Register of Historic Places along with the Caribbean Motel.
The book, Out of Season, is accompanied by critical essays from Joseph Giovannini and Jamer Hunt.
Havens' photographs capture the kitsch and nostalgic aesthetic of Wildwood's unique, modernist architecture.
The motels were built in anticipation of the arrival of the Garden State Parkway, a four-lane toll road that would ultimately run the length of New Jersey.
The architecture of this popular Jersey Shore resort was heavily influenced by the modernist styles that populated Florida at the time.
Modeled on American middle-class ideals and architectural make-believe, the constructs were imbued with the culture of the moment: space travel, cars, nascent rock'n roll, exotic Polynesian locale and neon signs spelling out names like
Jolly Roger
, Astronaut,
Bel Air
, Kona Kai, and Waikiki.
A substantial number of the motels have been demolished and many that remain face an uncertain future. However, those that don't have seen a resent surge in visitors who are looking to feed into their nostalgia.