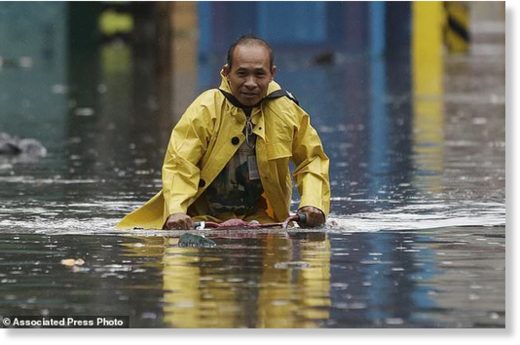 The torrential rains brought by Tropical Depression Maring flooded several parts of the National Capital Region on Tuesday, leaving roads impassable and commuters stranded.
The floods congested at least four major intersections in Malabon City alone, GMA 7 news program "24 Oras" reported on Tuesday.
Among them flooded intersections were Governor Pascual Avenue corner Maria Clara Streets, Maya Maya corner Pampano Street, and the intersection of Tonsuya and Sitio 6 in Katmon.
Rain poured heavily in Malabon around 2 p.m., and a waist-high flood rose within the next hour, particularly along Samson Road.
With PUV's unable to ply their routes, commuters had no choice but to wade through the flooding.
Meanwhile, at least seven families in Valenzuela City were forced to spend the day at an evacuation center at the Valenzuela National High School, according to Russel Fausto of the Valenzuela City Disaster Risk Reduction And Management Office (VCDRRMO).
However, some locals who had grown accustomed to the flooding stayed outside their homes waited for the water to subside.
The VDRRMO said all roads in Valenzuela were passable as of Tuesday evening.
Manila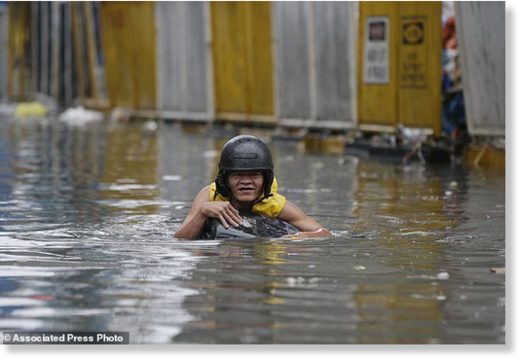 Water along a stretch of España Boulevard was knee-high on Tuesday. Several cars ended up trapped or were forced into opposite lanes along several submerged intersections.
Though there was no flooding in the Quiapo area, commuters lined the middle of the streets waiting for PUVs.
Among these stranded commuters was a traveler who feared missing a Saudi Arabia flight the next day because the flooding had prevented her from acquiring her additional requirements.
Meanwhile, the flooding along Taft Avenue was a windfall for enterprising individuals who made extra cash by helping pedestrians cross flooded streets.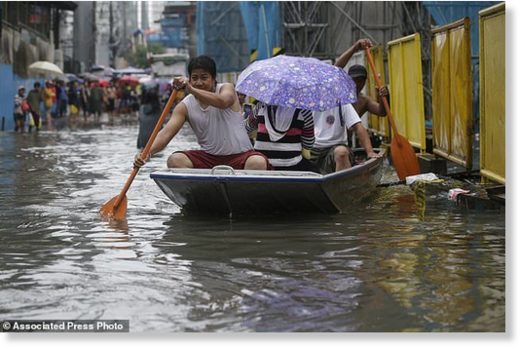 Most of Taft Avenue was gutter-deep in water, and so were lanes along Padre Burgos Avenue in front of the Manila City Hall.
Boats were used as public transportation along the stretch of Ricardo Papa Street in Sta. Cruz all the way to Caloocan City. Commuters hitched rides from buses and delivery trucks to get across.
Reynaldo Cortuna of the Responder Centralized Command and Control Center said all roads in Manila were passable by noon due to government anti-flooding projects.
Other NCR areas that experienced flooding were Parañaque, Marikina, Pasig, and QC.