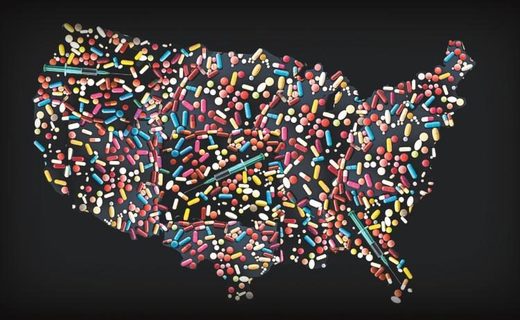 The American opioid crisis has been primed by Big Pharma's intentional flooding of their opioid products into our communities creating the initial circumstances of addiction. The crisis is supplied by the military-industrial complex whose Afghani opium poppy fields, controlled and guarded by US troops, supply upwards of 90 percent of the world's heroin. Heroin is turned to as the path of least resistance once pharma-addicted individuals run out of their opioid prescriptions, by systemic design. And finally, the American opioid crisis has been guaranteed by insurance companies with the help of Obamacare which does little to nothing to address root causes and cover proper rehab and treatment.
The tipping point is approaching if not here already. The window of opportunity to rescue an entire American generation from the combined effects of both an opioid crisis and an autism epidemic is limited as both have gripped this nation's children and young adults. Through their continued actions, both the American government and health system have shown that they would rather render our country's suffering generation invisible rather than provide any meaningful change.
​Rays of hope have been witnessed recently by two events. First, Ohio Attorney General Mike DeWine
announced the state is suing
five drug manufacturers over the opioid epidemic. And second, the US Food and Drug Administration (FDA), with historically toothless policies and Big Pharma revolving doors, has been forced to act. In what appears to be a symbolic gesture, the FDA's advisory of doctors and researchers voted 18-8 that Opana ER, Endo Pharmaceuticals potent opioid painkiller, has demonstrated risks that have outweighed its benefits. The FDA deemed Opana ER too dangerous to be on the market.
In a statement
, the agency noted this was the first time the FDA has requested that a company pull its drug "due to the public health consequences of abuse."
The opioid epidemic may have begun with prescription opioids, but it's since morphed into something much bigger that now has the potential to inactivate an entire generation. How much pain, suffering and abuse will the American government and the American people put up with at the hands of, and for the sole purpose of Big Pharma's bottom line?
Heroin is now the leading cause of death in Americans under 50
. In a special edition of On Contact, Chris Hedges travels to Sayreville, New Jersey to share the story of one of those victims- Shannon Miller, who died of an overdose at the age of 23.