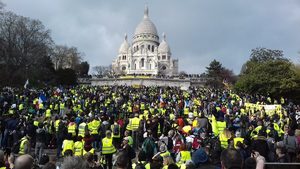 Acte XIX: Sacré-Coeur, Paris, 23 March 2019
There is one thing stronger than all the armies of the world, and that is an idea whose time has come.
- Victor Hugo
Recent Comments
We know that he was angry because his employer did a mistake of not paying for his work. However, the mistake that he did of destroying those...
---
That's scary stuff. We see the same kind of freak weather where I live in Australia only once in every blue moon, but we know just how dangerous...
---
IQ tests are strongly biased toward cultural priorities. Anyone who's a credible researcher knows this. The fact that he uses IQ tests as the...
---
Cold dehydrates. Freeze dried?
---
He was from Siberia............. Obviously he was just over heated in Moscow's hot spring temps and was just trying to cool down.