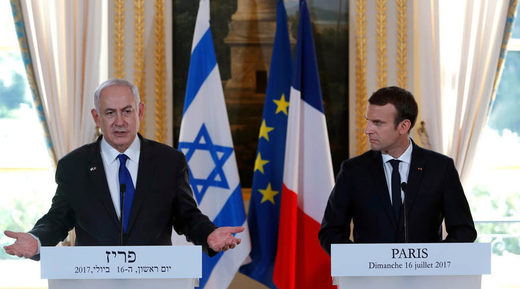 French President Emmanuel Macron denounced anti-Zionism, saying any failure to recognize Israel is the modern manifestation of anti-Semitism.
The Frenchman was speaking alongside Israeli Prime Minister Benjamin Netanyahu at an event Sunday marking the 75th anniversary of the deportation of 13,000 Jews from Paris to Nazi death camps.
"We will never surrender to the messages of hate," said Macron. "We will not surrender to anti-Zionism, because it is a reinvention of anti-Semitism."
The pair were speaking near the former site of the
Velodrome d'Hiver
, the indoor cycle track from which Jews were deported in July 1942. Fewer than 100 of the 13,152 Jews detained are reported to have survived.
During the speech, Macron attacked political rival
Marine Le Pen
of the Front National who has claimed the Nazi-supported Vichy government had not been responsible for the deportations.
"There are those who say Vichy wasn't France. It's true that Vichy wasn't all of France, but Vichy was the government of France and the French establishment. It was responsible for deporting French Jews, and not the Germans," he said.
Netanyahu, joined by Holocaust survivors as well as the Nazi hunter Serge Klarsfeld, vowed to stand in solidarity with France in the wake of terror attacks in Paris and Nice in recent times.
"Your struggle is our struggle," Netanyahu said, referring to Friday's attack in Jerusalem, in which Arab Israeli gunmen shot and killed two Israeli police officers. "The zealots of militant Islam, who seek to destroy you, seek to destroy us as well."
Macron condemned an attack last week that killed two Israeli police officers at a Jerusalem shrine revered by Jews and Muslims, and said he was committed to Israel's security — but warned that continued Jewish settlement construction threatened peace efforts.
"I call for a resumption of negotiations between Israel and the Palestinians in the framework of the search for a solution of two states, Israel and Palestine, living in recognized, secure borders with Jerusalem as the capital," Macron told reporters.
At his side, Netanyahu said, "We share the same desire for a peaceful Middle East," but didn't elaborate on eventual peace talks.
Macron is the latest French president to acknowledge his country's complicity in the Holocaust.
Jacques Chirac became the first in 1995, saying in his own
speech
at the so-called Vel d'Hiv: "France, the homeland of the Enlightenment and of the rights of man, a land of welcome and asylum, on that day committed the irreparable. Breaking its word, it handed those who were under its protection over to their executioners."