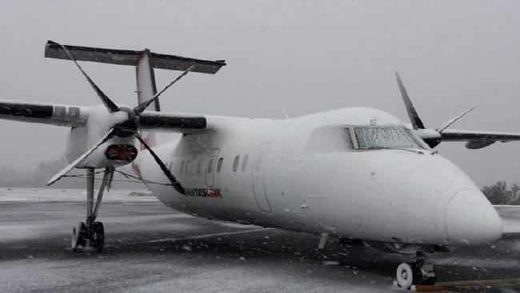 TEMPERATURES plummeted to a record breaking -12C this morning as winter made its presence felt across Australia's south east.
AUSTRALIA may have just recorded its coldest temperature of 2017 as a series of cold fronts barrelled across the country's south east on Sunday.
NSW and Victoria both had a freezing start to the day dropping to -12C in the mountains. Qantas has been forced to de-ice planes at Melbourne — a task usually only needed in Canberra and Hobart.
Sunday will still be chilly for Melbourne, Canberra and Hobart but temperatures will rise further north.
South of the Murray, the mercury in Ballarat fell to -2.1C, in Bairnsdale to -3.5C and at Mount Hotham to -7.8C.
But that's nothing on NSW and the ACT where residents of Orange woke to a low of -6.3C, and Canberra fell to -7C. But the mountain resort of Perisher knocked it out of the winter ballpark slumping to -12.1C at 3.30am.
Weather website Higgins Storm Chasing declared that
"the coldest temperature in several years for Australia"
. Indeed, the last time it got anywhere near that cold was a low of -12.8C on 4 August 2015, again in Perisher. Last year, no where in Australia got below even -12C.
Although it's still some way off the coldest ever record July temperature. Set at Charlotte Pass on Mount Kosciusko, on the 20 July 2010, the mercury bottomed out at -19.6C.
Forecasters had warned it would be a cold weekend across the country's south east
with Sunday the most bracing. The Central West of NSW fell below -6C which was worse than predicted.
Sydneysiders fared better, however. A low of 5C, which would have been the coldest for two years, didn't materialise in the CBD with temperatures not dipping below 7.7C. You didn't have to go far inland for it to get a lot more bitter though. The Olympic Park saw 3.4C and Camden tucked in just below freezing at -0.1C.
Melbourne saw temperatures fall to 2.6C at Moorabin Airport just after midnight.
QANTAS DE-ICING JETS
Qantas has been de-icing planes to cope with the cold.
"Having ice on the wings can be an issue because it changes the aerodynamics, which is crucial to stable flight. It also increases the weight of the aircraft, depending on how thick it is,"
the carrier said in a blog post.
You can't scrape the ice off with a spatula like you might do on your windscreen.
Rather, a heated, gycol-based solution is sprayed on the fuselage that removes ice and stops more from forming.
The liquid used is a yellow or orange colour which highlights the parts of the plane that have been treated. The process is carefully choreographed, starting at one wingtip and working around, avoiding sensitive areas of the aircraft.
"The solution works for about 10 minutes then ice may begin to appear again, so it has to be completed just before takeoff."
Once airborne, heat from the engines is fed through tubes just below the plane's metal skin to keep ice from forming in the subzero temperatures.
CHILLY IN CHILE
Spare a though for the citizens of Santiago — it's unusually chilly in Chile. The capital of a country that contains some of the driest places on earth, the city has had an unexpected blast of snow, delighting locals.
Airlines at Santiago Airport will no doubt be hurrying to de ice their plane's too with Chile's capital pelted by a rare snowfall.
Arica, on Chile's northern coast, is known as the driest inhabited place on Earth measured by rainfall with less than 1mm a year. But while snow does form further south in this long, sinuous South American state, it's still unusual in Santiago.
Almost 250,000 people were hit by power cuts mostly caused by snow-laden trees falling on cables, reported the
BBC
.
One person died trying to clear ice from a power line, Chilean media said.
Meteorologists say it was the heaviest snowfall in Santiago since 2007 as the city shivers through a cold snap.
But locals have used the opportunity to hone their snowman skills and tobogganing prowess.