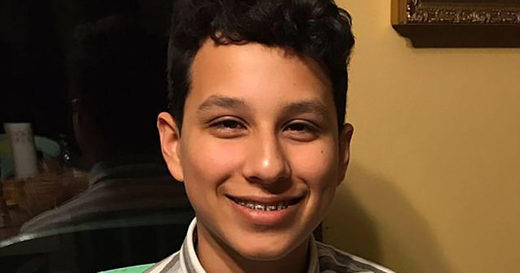 A deadly new internet trend called the "Blue Whale Challenge" has made its way from Russia to the United States. The challenge consists of completing — and recording — a series of dares over a 50-day period. The dares include drinking bleach, self-mutilation and jumping from a high distance. A Texas teen is the first reported death from the challenge in the states.
Isaiah Gonzalez's parents found him dead, hanging in his closet, Saturday morning. His father, Jorge, retrieved a camera that had been propped up a few feet away to live stream the event.
Isaiah's parents say his death is due to the Blue Whale Challenge after they found picture messages he sent to friends showing him completing some previous dares. According to his friends, Isaiah said his last dare would be his suicide.
Isaiah's sister, Scarlett Cantu-Gonzales, said if one of his friends would have informed the family of his plans, he would still be alive.
"They blew it off like it was a joke and if one of them would have said something, one of them would have called us, he would have been alive," she told KSAT.
The sinister Blue Whale Challenge originated in Russia. Authorities estimate there are 130 people dead from the challenge in that country. The 15-year-old's grieving parents want these numbers to go down and are using Isaiah's death as a way to bring awareness to this new deadly trend.
"I want [parents] to go through their phones, look at their social media," Jorge said. "If they're on that challenge already, they can catch that from happening."
According to the
Daily Mail
,
challenges can be a harmless as watching a scary movie at night, to something as deadly as self-harming. All of the challenges eventually lead to the suicide of the participant.
Two days after Isaiah's suicide, it was reported that a 16-year-old Atlanta, Georgia, girl killed herself. Investigators are working to determine if that death was also due to the Blue Whale Challenge.
Per reports from the
Washington Post
, law enforcement around the country has been informed of the challenge and are encouraging parents to diligently monitor their children's social media and text messages.