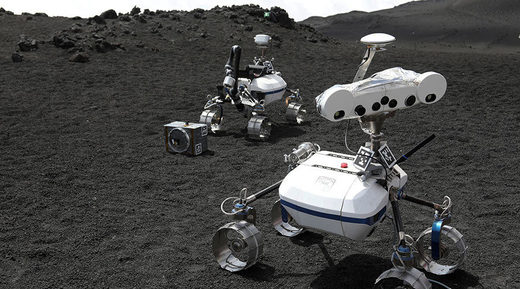 Europe's most active volcano welcomes tourists every day, but now it's hosting some rather unusual visitors - lunar robots whose skills are being tested for future landing missions on the moon and Mars.
Located on the Italian island of Sicily, Mount Etna exhibits seismic activity similar to what scientists believe will be found on the Earth's lunar satellite.
"We choose Etna because the volcanic, the seismic [activity] here is near that [which] we could expect it to be on the lunar surface," researcher Armin Welder told Reuters.
The lunar robots were deployed to Mount Etna by the German Aerospace Center, the agency which runs the country's space program. The program has enlisted experts from German, Britain, the US and Italy, all of which are researching ROBEX (Robotic Exploration of Extreme Environments).
The aim of ROBEX is to better advance the development of robotic equipment to be used in space.
"This is aimed at simulating a future, hypothetical landing mission on the moon or Mars and they use a lot of robots which are there to transport and install different instruments," Boris Behncke, a volcanologist from Italy's National Volcanology Institute, said.
Behncke and his colleagues hope the robots will provide them with useful technical data on seismic movement after exploring Mount Etna's terrain.
Any techniques learned on Etna will hopefully be deployed in future lunar missions or in the exploration of Mars.
The robots have almost completed an initial testing phase on the Piano del Lago area of the volcano, which is characterized as a desolate stretch of terrain which is battered by strong winds.
Researchers will also soon deploy a network of equipment including rover robots and drones, which will be used to monitor seismic activity similar to that which would be encountered on the moon.
Situated between the Italian cities of Messina and Catania, Mount Etna was awarded UNESCO World Heritage status in 2013 due to its near-constant state of activity and the scientific and educational value it yields.