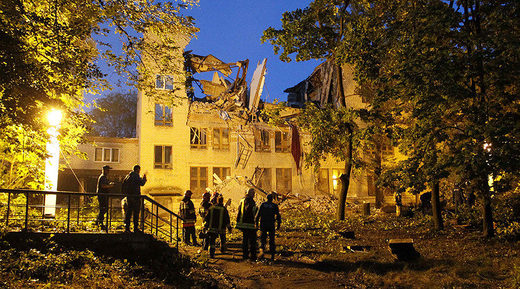 The University of Commerce in central Donetsk has been partially destroyed in what the head of the emergency services of the self-proclaimed Donetsk People's Republic (DPR) has described preliminarily as a blast caused by an explosive device.
"Preliminarily, judging from the nature of the damage, this was an explosive device," the head of the DPR's emergency services Aleksey Kostrubitsky told journalists, as
cited
by RIA Novosti.
Earlier, a spokesperson for the DPR administration described what happened as a "terrorist act," saying that the university's auditorium and part of the library were destroyed.
The university has been cordoned off, with police and emergency services working there.
"More precise data will be obtained after an expert committee has completed its work and given more accurate conclusions. The commission that will investigate this incident has already been set up," Dmitry Trapeznikov, the vice-premier of the DPR, told journalists.
Meanwhile TASS cited a source in DPR's law enforcement as saying that the university building could have been destroyed because of recent heavy rains.
The DPR, along with another self-proclaimed region, the Lugansk People's Republic, is involved in an ongoing conflict with the Ukrainian government which began in 2014, when a wave of deadly protests led to an armed coup that ousted the elected government in Kiev. The new government sent troops to the Lugansk and Donetsk regions, which were unwilling to recognize the coup-installed authorities, leading to a bloody conflict that has so far claimed over 10,000 lives, according to UN figures.
Although a shaky ceasefire is now in place, both sides have accused one another of shelling and OSCE monitors have recorded numerous ceasefire violations.