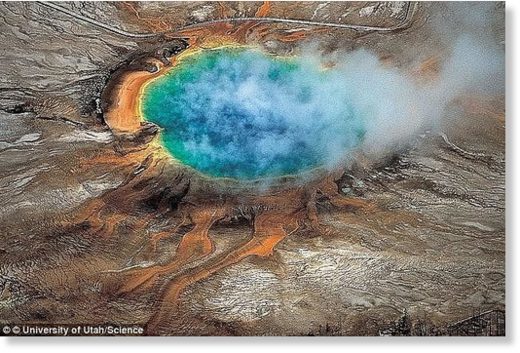 Hundreds of earthquakes have hit Yellowstone National Park in the space of a week, according to experts.
A total of 464 quakes have been recorded over the past week at Yellowstone, which sits above one of the world's most dangerous supervolcanoes.
This is the highest number of earthquakes at the park within a single week in the past five years.
The recent activity has raised fears that the supervolcano is about to blow.
If it were to erupt, the Yellowstone supervolcano would be one thousand times as powerful as the 1980 Mount St Helens eruption, experts claim - although they say the risk is 'low'.
Researchers from the University of Utah's Seismograph Stations (UUSS) have been monitoring the activity since it began last Monday, June 12.
The strongest quake of 4.4 magnitude hit on Thursday, June 15.
The latest hit on Monday, June 19, with a magnitude three earthquake striking 8.6 miles (14 km) north northeast of West Yellowstone, Montana.
UUSS said the quake was part of 'an energetic sequence' of earthquakes magnitude two and larger in the area.
A spokesman said: 'The epicentre of the shock was located in Yellowstone National Park, eight miles north-northeast of the town of West Yellowstone.
'The earthquake was felt in the towns of West Yellowstone and Gardiner, Montana, in Yellowstone National Park, and elsewhere in the surrounding region.'
Earthquake swarms are common in Yellowstone and, on average, comprise about 50 per cent of the total activity in the Yellowstone region.
Although the latest swarm is the largest since 2012, it is fewer than weekly counts during similar events in 2002, 2004, 2008 and 2010.
As well as the magnitude four tremor, five in the magnitude three range, 57 in the magnitude two range, 238 in the magnitude one range, 157 in the magnitude zero range, and six with magnitudes of less than zero were also recorded.
The tremors were recorded at depths from ground level to nine miles (14.5 km) below sea level.
The University of Utah is part of the Yellowstone Volcano Observatory (YVO), which provides long-term monitoring of volcanic and earthquake activity in the region.
YVO is one of the five United States Geological Survey volcano observatories that monitor volcanoes within the United States for science and public safety.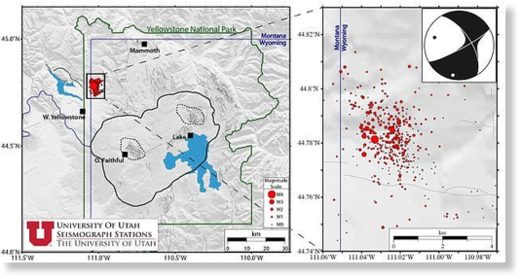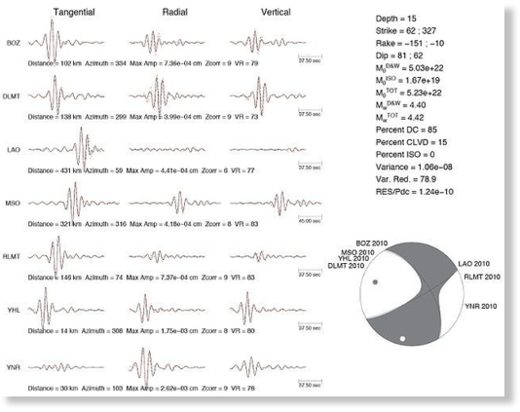 In a written
statement,
a spokesman for the team said: 'Yellowstone hasn't erupted for 70,000 years, so it's going to take some impressive earthquakes and ground uplift to get things started.'
'Besides intense earthquake swarms, we expect rapid and notable uplift around the caldera.
'Finally, rising magma will cause explosions from the boiling-temperature geothermal reservoirs.
'Even with explosions, earthquakes and notable ground uplift, the most likely volcanic eruptions would be the type that would have minimal effect outside the park itself.'
Yellowstone is the site of the largest and most diverse collection of natural thermal features in the world.