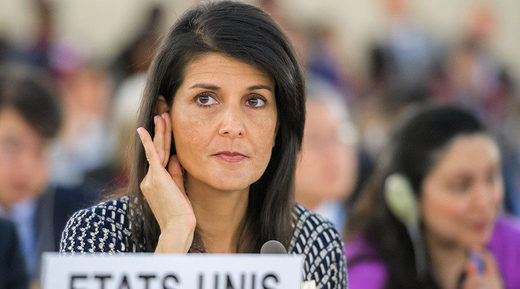 The United States envoy to the UN, Nikki Haley, says the Trump administration is "looking carefully" at its role on the UN Human Rights Council (UNHRC) due to its stance on Israel.
Speaking at the Geneva forum Tuesday afternoon, Haley condemned the council's "chronic anti-Israel bias," adding that the US sees "some areas for significant strengthening," according to Reuters.
Haley criticized the UNHRC for failing to issue resolutions against Venezuela for violations of human rights. She said it was "hard to accept" that no resolutions have been considered against the administration of President Nicolas Maduro when five had been passed against Israel.
She said the South American country "should step down from its seat on the human rights council until it can get its own house in order."
Last week Haley wrote an
article
in the
Washington Post
, claiming the council "white washes brutality" and called on it to "end its practice of wrongly singling out Israel for criticism."

Comment: Of course no mention about Saudi Arabia.


She also criticized the group's stance on Iran, which she described as having an "abysmal human rights record."
In a speech opening the session, the UN High Commissioner for Human Rights Zeid Ra'ad al-Hussein said that the Palestinian people were marking "a half-century of deep suffering under an occupation imposed by military force," referencing the 50th anniversary of the Six-Day War, which saw Israel gain control of the Gaza Strip.
He said that Israelis also deserve freedom from violence, adding: "Maintain the occupation and, for both peoples, there will only be a prolongation of immense pain."
Haley will host a panel on 'Human Rights and Democracy in Venezuela' later on Tuesday before traveling to Israel on Wednesday.