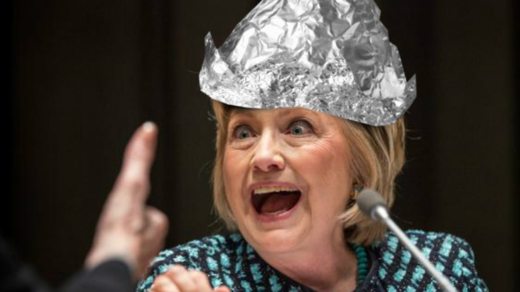 Two thing you need to know about Hillary Clinton; she
dodged sniper fire
in Bosnia, and is not President today
because of Macedonians
.
Except her in-house TV news network
disagrees about the latter
:
Hillary Clinton's list of who's to blame for her 2016 election loss gets longer with every passing day.

On Wednesday, in an interview with Recode's Walt Mossberg and Kara Swisher, Clinton added a few more names to her list: The New York Times and the Democratic National Committee. That's in addition to the media, James Comey, Donald Trump, the Russians and her supporters' assumptions that she would win the race.

The one person missing from that list? Hillary Rodham Clinton.
Ouch!
Disappointed, mad and hurt, CNN rips in further (no doubt through big, fat tears):
The truth of the matter is this: Hillary Clinton's name was at the top of the campaign and signed on the checks her staff received. It was her decision to set up a private email server and exclusively use it for her communications as secretary of state -- the first person in her position to do that.

She was the one who kept giving high-paid speeches to the likes of Goldman Sachs even after it was clear she was going to run for president. ("They paid me," Clinton explained Wednesday.)

She was the one who struggled to grasp -- despite the repeated warnings of her staff -- that the email issue was causing her major image problems on questions of honesty and trustworthiness.

She was the one who struggled to put away a once-quixotic challenge by Bernie Sanders in the Democratic primary.

She was the one who premised her entire general election strategy on the idea that once voters knew who Trump was and what he said, they would have no choice but to vote for her.

She's the one who decided against visiting Wisconsin even one time between the Democratic convention and the general election.

All of those things played roles -- you can debate how big or how small -- in her loss. And Clinton had control of every single one.