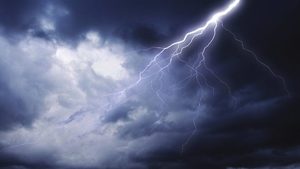 A mystery bang is the talk of Tauranga after it woke many locals in the wee hours of Sunday morning.
Police and MetService say it was likely just thunder, but residents aren't so sure.
One local believed it could have been a meteor, another thought it was an earthquake, while a third believed a "sonic boom" was the cause.

Helen Lynam wasn't convinced that it was thunder. "It was loud and like a boom/bang sound. I didn't think it was thunder, it didn't have that sort of sound to it."

A member of the Tauranga Weather Facebook group said her pets had been "going weird" in the moments before the noise was heard.
Others, however, are sure it was just the weather. "It was definitely thunder - heard it. It woke me up. It was long and so loud," Maxine Paterson said.
Kaysi Fredericks said she was woken from a deep sleep by "what I thought was a large clap [of] thunder hitting above the roof of the house". "It was enough to shake the house," she said.

"I normally love a good storm, but it was so sudden and loud the first thing I did was grab my husband, Sam."
Robert Bull said the bang shook his house in Greerton. "[I saw] a red light in the window, bright like a strobe," he said. "I actually thought the world was going to end."

Dave Bonsall, from Bethlehem in Tauranga, said while the rain intensified immediately after the bang, it was "not storm-like".
"Having come from Christchurch, where we experienced the 7.2 earthquake in the middle of the night, this was equally startling as
it seemed to come from directly above us," he said.
"For me, my wife, my sister and our pets, this was certainly unlike any other bad weather, or natural disaster, that we have experienced in our lifetimes."
MetService said there was a thunderstorm over Tauranga about 3am and that was the likely cause.
A few locals contacted police to report the sound, a spokeswoman confirmed.
"Apparently we did get a couple of calls about a loud bang, but it's believed to have been weather-related."
The Fire Service, on the other hand, received no calls about it.
Other Mystery Bangs
While the mystery of the Tauranga bang appears solved, a number of other strange bangs across the country last year were less easily explained.
A "deep resounding bang" in Palmerston North last June left residents and police flummoxed.
Theories ranged from meteors cracking the sound barrier, to claps of thunder, to a blown transformer, to a garage door slamming, to a sparkler bomb. Even aliens made a showing in the conversation.
A police spokesperson said it was "definitely a loud deep bang - nothing like a gunshot bang, which is quick and high pitch".
A bang in Wellington last August, which was likened to a "plane crashing" and "a house going down a hill or a petrol tanker blowing up", sent pyjama-clad residents hunting for the cause and for people who may be in need of urgent help.
A week later, one local said it appeared a tree had fallen over and rumbled down a hill.
Police were also unable to find the cause of a bang heard in Rolleston, west of Christchurch, last September.
However, after a red streak was reported in the sky over Whanganui about the same time, an astronomer said it was possibly a meteorite entering Earth's atmosphere.

It was loud and like a boom / bang sound. I didn't think it was thunder it didn't have that sort of sound to it. I live in Judea.